Happy What I Ate Wednesday!
Thrilled to be back again and share with you….
The Day of the Bottomless Pit
I felt like I was eating constantly, probably because we  started the day with P90x2 Plyocide.
For those of you who don't know, imagine jumping, sprinting, push-ups, kicking, squatting, well I think you get the picture. It's a tough workout.
My stomach was rumbling when I walked up the stairs. I don't think Tony would have totally approved but I started the day with some cold vegan pizza, leftover from a cooking class where I was an assistant.
The class was taught by Cam from The Roman Candle in Madison. He let me make a cheese-less pizza with a leftover crust. Here's a little Badger Girl trivia for you: Manatee and I had our first date at The Roman Candle. So I admit, I am a little partial to the restaurant and Cam taught a great class!
That didn't keep my full long, so pretty soon I was back in the kitchen and made my Shakeology.
Chocolate Shake-o, Almond Milk, vanilla, almond butter, and cinnamon. A little sweet, but it did the trick.  As you can see, I couldn't even wait long enough to take a picture. Told you I was hungry!
That kept me going for a few hours. Around lunchtime, I decided to have a little snack as I was in the middle of work and didn't want to stop for a meal.
Lucky for me, we still had some homemade turkey jerky. Manatee is getting really good at this! I am going to have to record his concoctions for the blog. This batch was sweet and spicy. Yum!
I finally gave in to lunch around 2:00. Manatee and I have been following the P90x2 Nutrition Plan. Essentially this means, I need to cut down my carbs and up my protein. I was a bit at a loss for lunch. Lucky I had some leftover white beans from recipe testing, so I created a yummy white bean and sun-dried tomato bean dip (recipe will be posted later this week).
I had the dip on top of an ezekiel english muffin with spinach dressed with lemon juice.
So good! I often forget how yummy plain old lemon juice can be on fresh spinach. Who needs fatty dressings?
A few hours later and I was hungry again and dinner was nowhere in sight.
I have been crushing on fresh strawberries lately. I know they are not locally in season but I can't help it. I just love them so much!
Hour later, I was hungry AGAIN.
More turkey jerky. 
Then after an afternoon of wrestling with buttered butternut squashes and immersion blenders, my Lombardino's recipe testing was complete so Manatee and I had a little sample before dinner.
Lombardino's Butternut Squash Soup. You are going to have to wait until the cookbook comes out to get the recipe, and trust me, you WANT this recipe.
Finally, we hit the main event.
Sweet and Spicy Tofu, steamed mushrooms and frozen stir fry veggie mix, over a brown rice blend (including barley and wheat berries) over a bed of spinach, drizzled with leftover Sweet and Spicy marinade.
Oh. My. God.
Heaven on a plate.
Seriously.
If you didn't catch my subtle hyperlink, let me make this a little more obvious: Check out the recipe by clicking HERE.
And for dessert….
Oh come on, I said it was the day of the bottomless pit. Of course, there is dessert! Did you expect anything less?
Chocolate cookies with white chocolate chips, cranberries, and slivered almonds. And they're (almost) vegan.
This recipe is also forthcoming.
So that was my Day of the Bottomless Pit.
What are your current food crushes? Ever have a day where you just seem to keep eating and eating and eating?
Check out more WIAW posts by going to this link: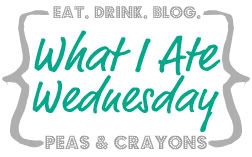 And thank you to Peas and Crayons for hosting!

Related posts: