I started a tradition in my family a few years ago.
Every Fourth of July, we make blueberry pie.
My mother is never thrilled at the prospect of heating up the stove on a hot July day, but she always likes the end product. Even though we generally never wait long enough for the pie to cool and end up with a blueberry puddle on our plates, it has become one of my favorite traditions.
This year I thought I would treat her by making the pie ahead of time. This means our house gets heated instead of hers and it also means we don't have to pretend to wait for the pie to cool. It also means that you have time to run to the get to the store so you can make your own Fourth of July Blueberry Pie.
Fourth of July Blueberry Pie
8 cups fresh blueberries
zest from 1 orange and 1 lemon
1/4 cup sucanat or organic sugar
3 tablespoons whole wheat flour
1 tablespoon allspice
2 large eggs
1/2 teaspoon salt
2 pie crusts
Preheat the oven to 350 degrees.
Whisk 1 egg in a large bowl. Add blueberries and toss to combine.
Add zest, sucanat (or sugar), flour, allspice, and salt. Use a wooden spoon to combine all ingredients so that the blueberries are evenly coated.
Line pie pan with 1 crust. Pour in fruit mixture.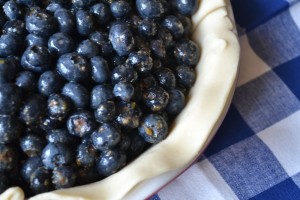 Do not rinse out bowl that had the fruit mixture in it; we will be using that later for the egg wash.
Using a ruler or bread knife as a guide, cut remaining pie crust into 1 inch strips.
Whisk other egg in the bowl you used for the fruit mixture. Using a pastry brush, coat one side of pie crust strips with mixture and then place on pie in lattice pattern. Remember, it doesn't have to be perfect.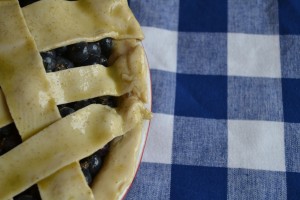 Brush on remaining egg wash on top of strips and over the edge of the crust.
Bake for 45 minutes to 1 hour until crust is golden brown and berries are tender.
Cool completely and then enjoy.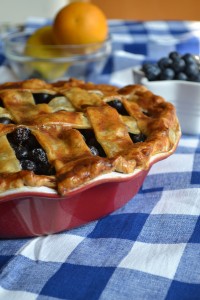 Recipe Review:
I am not going to lie to you, this is unlike most blueberry pies that you have had before.
The allspice gives it a much richer taste. If you want a lighter pie, I would sub in some cinnamon.
Omitting the orange zest for additional lemon zest would make it crisp and refreshing.
As it stands, this is a rich and decadent blueberry pie.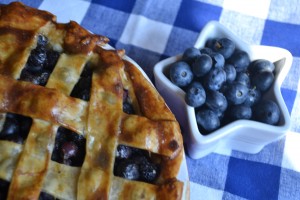 This is a blueberry pie to be reckoned with.
Dare I say, this is a blueberry pie worthy of our country's birthday, a pie that stands in when cake and ice cream just won't cut it.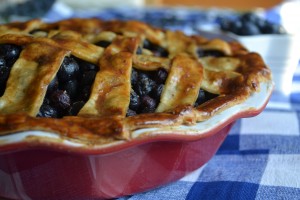 This is a pie that (I hope) my mom will be proud of.
Happy Fourth of July folks! The rest of the week is dedicated to pies and popsicles, two of my summer favorites and desserts worthy of our nation's birthday.
*******************************
What are your Fourth of July traditions?