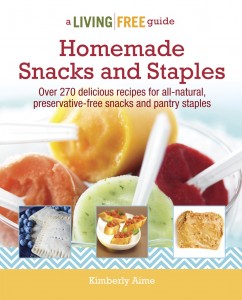 Publish Date: May 7, 2013
Homemade Snacks and Staples includes over 200 recipes for all of your favorite pantry staples, snacks, and mini meals. After an introduction to clean eating, I share our journey to eliminate processed foods and tips for those of you ready to plunge into the world of whole foods living. I also cover stocking your pantry, common baking substitutions, going out on the town, and staying with guests while trying to 'keep it clean.'
In the weeks leading up to the release, I will be featuring some of my favorite recipes on the blog.
Check this page to see upcoming events and updates on where you can find the book.
To say that I am excited for May would be the understatement of the year.
Updates!
Do you want a copy of Homemade Snacks and Staples? Contact me for your own autographed copy!
You can also buy a copy at Orange Tree Imports or Amazon.
Cookbook Events
I will be at the Southwest Wisconsin Book Festival on Saturday, September 14th. I will be giving a blog talk in the morning and selling the book (with some free homemade treats) in the afternoon. Check out the details here.
*********************
Due to Baby A's imminent arrival, this is our only event for May. We will be scheduling more events later this summer. If you are interested in hosting an event, please contact me. I would love to whip up some Homemade Snacks and Staples recipes for you and your friends.