My mom makes a killer pumpkin cookie. It's my favorite cookie of hers but I can never seem to replicate myself. She adds a little orange peel and tops it with butter-based frosting, the result is this cakey little cookie packed with flavor and topped with buttery smooth frosting. Yum!
Once of the reasons I can't replicate it is because I am not a big fan of making frosting. It never turns out right and I just can't justify the calories of it. I guess when I eat my mom's version, ignorance is bliss.
I wanted to create a version that captured the spice and zest of the cookie with a little more oomph so I didn't have to deal with the making and justifying of a frosting on top.
I found a recipe in The Rodale Whole Foods Encyclopedia to use as a base. You may notice some similarities between this post and my recent Cran-Glory muffin post. I used very similar ingredients (pumpkin, roasted pecans, and fresh cranberries) with two very different results. I sent both of these treats to Mila, my partner in the sweet swap.
When I first took these out of the oven, they were just okay. The flavors weren't very strong and truth be told, I was a little disappointed. The next day all of that changed. Once the cookies had time to cool down and settle, the flavors intensified.
As time went by the cookies got better and the muffins got stale. I am hoping Mila judges me by the cookies, not the muffins.
Fall Cookies
Adapted from Thanksgiving Cookie recipe from The Rodale Whole Foods Cookbook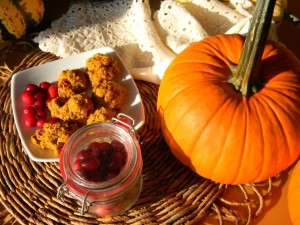 1/2 cup honey
1/2 cup unsalted butter, 1 stick
1 cup of pumpkin puree
1 large egg, beaten
1 tsp vanilla
2 cups whole wheat pastry flour
2 teaspoons baking powder
1/2 teaspoon baking soda
1/4 teaspoon salt
1 teaspoon allspice
1 teaspoon cinnamon
1/2 cup golden raisins
3/4 cup fresh cranberries, chopped
1 cup pecans, chopped 
2 tablespoons of orange peel zest
Preheat the oven to 375 degrees.
With an electric mixer, beat the honey and butter until light and fluffy. Add pumpkin, egg, and vanilla, mix until combined.
In a large bowl, whisk together flour, baking powder, baking soda, and salt, allspice, and cinnamon.
Gradually mix in the butter mixture.
Fold in the cranberries, nuts, orange peel zest, and raisins.
Drop by teaspoons on un-greased cookie sheet. Keep dough 2 inches apart. The dough doesn't spread out very much.
Bake for 8-10 minutes until cookies are set.
Cool for a few minutes on the sheet and then transfer to a baking rack to cool.
Recipe Review: These are my new trademark. I love the pop of the fresh cranberry and the sweetness of the roasted pecan. I am looking forward to sharing these with my mom to see what she thinks.