Tim Larsen is the Executive Chef of
Cooper's Tavern
, a leading Madison Gastropub.
Cooper's Tavern
opened in January 2010 and is located on the Capitol Square.
Background 
Tim graduated from UW-Madison with degrees in Conservation Biology, Geography, and a certificate from the Institute of Environmental Studies. He then went to work at the Department of Natural Resources in the Bureau for Endangered Resources. While in school, he also took many art classes and excelled in that field. But wait, isn't this a local chef interview?
During college, Tim worked part-time at the Great Dane as a prep cook and eventually took on more of a supervisory role. After a year of working for the Department of Natural Resources, Tim came to two conclusions. First, he was only going to move up if he had a master's degree and second, he didn't want to go back to school yet. He took the plunge and accepted the Executive Sous Chef position at the Great Dane. After helping the Great Dane open its Hilldale location and completing 11 years with them, Tim moved on to The Old Fashioned for two years before moving on to the Executive Chef position at Cooper's Tavern when it opened in January 2010.
Tim may not have a formal culinary degree, but it's evident he is a scholar on the subject. He approaches cooking with the precision of a scientist and the creativity of an artist. Even before Cooper's Tavern approached him for the Executive Chef position, Tim had been researching for several years on the subject of Gastropubs.
Gastropubs
I have to admit I had to ask Tim: What's a Gastropub? For those of you foodies, move on to the next section and stop snickering, but for the rest of you who are wondering if this is a stomach ailment, here is some information for you:
So you go into a typical Wisconsin bar (not counting downtown Madison) and what will you find? Fried cheese curds, fried mushrooms, and maybe a frozen pizza. You generally don't go to a bar to eat, you go to drink. But what if you want to eat well at a bar? What if you want more than typical bar food? Why can't you eat foie gras at a bar?
Enter Gastropubs. High end food with a casual atmosphere and good drinks. Gastropubs began gaining popularity in Great Britain in the late eighties and early nineties. If you want to read more about it, Washington Post has this great article on Gastropubs and their history.
Cooper's Tavern
Something for everyone with all the basics covered
Cooper's Tavern offers high quality basics that are taken to the next level. Whether it's the burger made with Black Earth's single source processed meat, or the homemade Reuben that has become Cooper's trademark dish, traditional dishes have taken on a life of their own at Cooper's Tavern.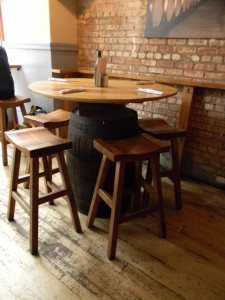 Let's look at the Reuben more in depth to give you an idea of the attention to detail in each dish. The brisket comes from Knoche's meats and is brined at the restaurant (Read this State Journal article on Cooper's brining techniques) and paired with sauerkraut from Porchlight, a local non-profit that teaches job skills to disadvantaged populations and produces local food products. The Reuben is served on Black Rye with Swiss cheese and Thousand Island dressing. Yum!
Tim also identified the roasted bone marrow and Sconnie egg as two other trademark Cooper dishes. The roasted bone marrow is also a very typical Gastropub item. Tim gets the split bones of the cattle from Knoche's. They roast the bones at Cooper's and then you can spread the marrow on bread for a rich, delicious treat. The Sconnie egg is derived from the Scotch egg, a typical Gastropub invention. You wrap a sausage around a hard-boiled egg and fry until it is good and crispy. At Cooper's, they use a Brat sausage to make a Sconnie version. 
Cooper's Tavern Beer
I should also mention that Cooper's Tavern is also a bar. With all the amazing dishes, it's easy to forget. They have a great beer selection and it's one of Manatee's favorite places for a drink.
Cooper's Tavern Brunch
On the weekends, Cooper's Tavern offers an extended brunch lasting from 9 am to 3 pm. They are one of the few downtown restaurants to offer brunch until 3 pm and they are also one of the few (if not the only) to offer homemade English muffin. Pair that with their house-cured Canadian bacon and you have a pretty amazing Eggs Benedict.
Cooper's Tavern Menu and Hours
Cooper's menu changes four times a year. They changed in mid-September and will be changing again in December. The entire menu does not change, but Tim finds ways to incorporate seasonal foods into the salads and some of the entrees. He told me about a Brussels Sprout and Bacon winter salad that almost had me drooling. I already can't wait for the December menu change.
Hours:
Monday –Friday: 11 am to Close
Saturday and Sunday: 9 am to Close
Wondering where you can find Cooper's Tavern? It's on the square, just off the intersection with State Street.
Tim's Advice to New Cooks
Don't be afraid of fat. In our culture, fat has been demonized. People are trying to steam everything and avoid fat all together. The problem? Fat is where the flavors lie. It's okay to use a little butter and a little oil. Keep it in moderation and you will be fine (and much happier with your food!).
Don't be afraid of salt. Salt brings out the flavor in food. Don't be afraid to use it as a seasoning.
Taste as you go. You know what you like so don't be afraid to taste as you go and adjust to your liking. Also know that taste changes as a dish cooks and sits. Keep tasting and checking in to see how the dish is doing.
Tim's Must-Reads
As I mentioned earlier, Tim is an avid reader and a self-taught chef. I couldn't wait to hear his recommendations for cookbooks and magazines.
Tim's Super Simple Spiced White Sauce
 Tim shared with me one of his go-to meals, pasta and white sauce. The white sauce is super flavorful and super simple. Check out Tim's Super Simple Spiced White Sauce.