Alright, folks. I am about to share with you one of my favorite Christmas treat recipes.
Let's be clear about a few things:
This is not a "clean" recipe. I can't even vouch for it being terribly healthy.
Shocking, I know.
This is a recipe that I grew up with and to me, it means Christmas to me more than any sugar or gingerbread cookies ever could.
Sweet white chocolate (or almond bark) mixed with salty peanuts, a little something fruity, and a little something plain. They are easy to do and even easier to eat. Trust me, I'm on my third batch.
Without further adieu, let me give you….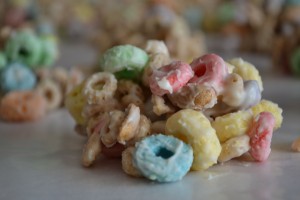 White Chocolate Cereal Nut Clusters
 1 lb. white chocolate or almond bark or any white chocolate substance you can melt
3 cups salted peanuts
3 cups cheerios (or another plain cereal)
3 cups Fruit Loops or colored mini marshmallows
Lay out wax paper sheets or parchment paper on the counter.
You are going to need two bowls for this. In one large bowl, combine the peanuts, cheerios, and fruit loops.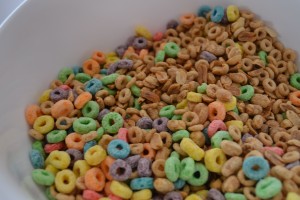 Pour some of the mixture into a medium sized bowl.
Wait, did I really just say "some"? How inaccurate is that?
You need to decide how many batches of chocolate you want to melt at one time. Going to melt half? Pour half of the cereal mixture in the medium sized bowl. Going to melt a third? Pour a third of cereal mixture in the bowl.
Melt a portion of your chocolate. I prefer doing it in halves and doing it the microwave. I usually start with 2 minutes, stir and then do it in increments (30 seconds) until it is totally smooth.
Pour melted chocolate into the cereal mixture. Stir with a wooden spoon or spatula until cereal mixture is coated in melted chocolate. Use a spoon to scoop out clumps and place on the wax paper (or parchment paper) to cool and set.
Repeat with remaining chocolate and cereal mixture.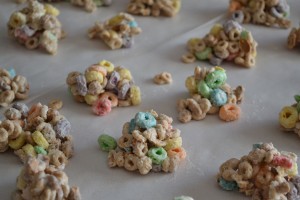 The clumps will harden as they cool. They should be set in 1-2 hours depending on how cool your kitchen is.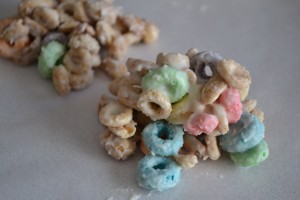 Enjoy!
******************
What treat equals Christmas to you?
This post is part of a love bloghop. This month's theme is nuts, to check out more nut recipes, check out this post and learn more about the bloghop.