Folks, I need to admit something.
I have been suffering from a severe lack of motivation, cooking and otherwise. The weather is grey and I watch in envy as bloggers post about these amazing pumpkin goodies and comfort food meals. I have canned pumpkin puree, more squash than I know what to do with, and I have gotten to the point of storing the CSA potatoes downstairs because I felt too guilty having them stare at me in the kitchen. Yes, taters, I know. I have had some of you for months and I know you are delicious, but I just don't want to deal with you right now. Stop giving me the evil eyes!
The weather is cold and it's the perfect season for soups, warm dinners, and filling your kitchen with homey smells. But after cooking non-stop for the cookbook, I have (almost) nothing left. We have ordered takeout more in the last week than I think we normally do in one month. I have even started resorting to peanut butter jelly sandwiches.
Yet, I do have a recipe for you. It's not pretty, but it's homey, delicious, and takes minimal effort. You won't find it on Food Gawker, but I would much rather it found its way to your kitchen table. And let's be honest, none of my photos end up on Food Gawker. (Note to self: take a class on photo editing and buy better props.)
If you have been following the blog, you know I have a thing for chicken enchiladas. I even got all Shakespearean about them at one point.
For those of you new to the blog, guess what? I have a thing for chicken enchiladas. Particularly of the salsa verde variety. You can keep your lasagnas and meat loaves, I will take my comfort food sandwiched between corn tortillas with a light, spicy flair.
I have perfected throwing chicken breasts (or thighs) into a slow cooker with enchilada sauce, corn, and black beans for the filling, but this time, my lack of motivation came when I went to roll the enchiladas. Suddenly, rolling each enchilada individually seemed like way too much work. I thought about just throwing the filling on top of salad and calling it a day, but I really wanted some warm, bubbly enchilada goodness fresh from the oven. And that, my friends, is how this recipe was created.
Chicken Enchilada Casserole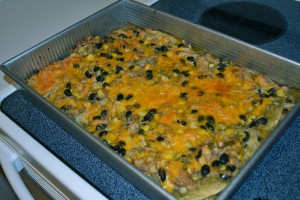 1 (1 to 1 [1/2] pound) package of chicken breasts or chicken thighs
3 cans green enchilada sauce
1 can black beans, rinsed and drained
1 can corn, rinsed and drained, OR 1 [1/2] cup frozen corn
9-11 corn tortillas
1 [1/2] cup cheddar cheese, shredded
1. Combine chicken, 2 cans enchilada sauce, black beans, and frozen corn to a 4 to 6 quart slow cooker. Cook on Medium for 6 to 8 hours.
2. Depending on your availability, after 5 to 7 hours, shred the chicken and let it cook in the sauce for the remaining hour. If you are out of the house or don't have time, don't sweat it. Just shred the chicken before you proceed to the next step.
3. Preheat the oven to 375 (dgF).
4. Remove shredded chicken mixture with a slotted spoon and place in large mixing bowl. Mix in 1 cup of cheddar cheese.
5. Pour [1/3] of the third can of enchilada sauce into a 9 x 11 rectangular cake pan. Use a spatula to smooth the sauce so it covers the bottom of the pan.
6. Lay corn tortillas on top of the enchilada sauce. You can either overlap them or split some in half. Just try to cover the sauce with tortillas.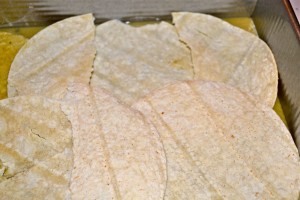 6. Spoon half of the chicken mixture over the top and spread so that it covers the tortillas.
7. Pour the remaining [2/3] can of enchilada sauce in a wide, shallow bowl.
8. Dip the tortillas in the enchilada sauce and then place on top of the chicken mixture.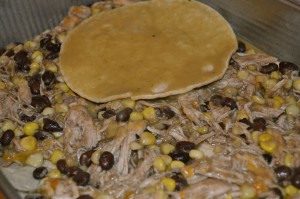 9. Cover the tortillas with remaining chicken mixture and then top with remaining cheese.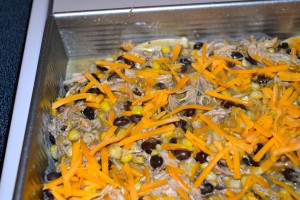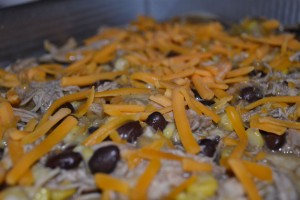 10. Bake for 20 to 30 minutes, until the top is bubbly and it is heated all the way through.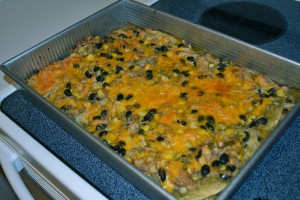 11. Serve with salsa, shredded lettuce, guacamole, and/or Homemade Baked Tortilla Chips.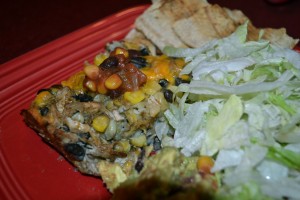 Variations:
For a dairy-free version, omit the cheese. You really don't need it. I just happened to have some leftover cheese from another recipe.
Don't like salsa verde? Try it with regular enchilada sauce.
Don't like black beans? Substitute your favorite beans in, or omit them all together.
Want to spice it up? Replace the enchilada sauce with your favorite salsa.
Recipe Review:
For me, this recipe = comfort on a plate.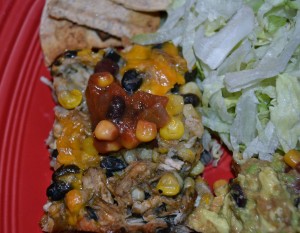 I love the mild spice of the enchilada sauce, the soft corn tortillas, and tender chicken meat. On top of that, I get to eat them with chips and shredded lettuce, two of my favorite things!
The clean up for this is an absolute breeze. The corn tortillas soak in the enchilada sauce and nothing really sticks to the pan.
It makes great leftovers and is equally good eaten cold (preferably while standing in front of the refrigerator and telling your significant other that you are just checking to make sure you have almond milk for tomorrow's smoothies).
I really hope you try it and would love to hear what you think.
**********************
As I mentioned, I am totally lacking motivation. What do you do to stay or get motivated?
I have been known to blare musical theater soundtracks, sing at the top of my lungs (even while writing blog posts), and turn all the lights on in the house. I would love to hear what you do!