"Raisins that look like chocolate chips are the reason I have trust issues."
I saw this quote at the specialty shop where I work part-time. I immediately thought of the sugar raisin cookies my mother used to buy at my uncle's bakery and the disappointment that followed when I bit in and realized that there was no chocolate. But after the second bite, I was hooked. I loved those raisin cookies. A craving stirred within me.
I tried to set it aside, but then when visiting my parents, my mom bought a package of oatmeal raisin cookies and they were amazing. You would think that would have satisfied the craving for raisin-themed cookies, but no. It made it even more intense. I knew I had to make a homemade version.
Before I go even further, I need to clue you on a personal and somewhat embarrassing secret: I consider the Food Network stars to be my close personal friends. Okay, so maybe none of them would recognize me on the street, but I let them into my home whenever I have a cooking project or recipe testing to do. There aren't many dishes that I would make from the shows, but I appreciate how these women (Rachel, Anne, Ina, and Paula) are able to convey so much knowledge and make it look so easy. Yes, I even watch and appreciate Paula Dean. Judge me if you must, but if these women can get people to cook at home, it's a start.
I have a soft spot for Ina Garten. She comes across as so confident and so relaxed in the kitchen. Her recipes are classic and she tries to keep them as simple as possible. When I was searching for best ever oatmeal cookies, her raisin and pecan cookies came up first in the Google search (way to go on the SEO, Food Network).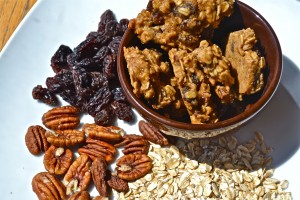 I'm not sure she would approve of the changes I made, but Ina and I view cooking and food differently. Ina is going for the best possible taste and I have a double agenda: I want to make a dish as healthy and as packed with flavor as possible. My healthy side just can't justify 2 cups of sugar and 2 sticks of butter. I'm sorry, Ina, but some of it has to go.
Cleaner Raisin and Pecan Oatmeal Cookies
2013-05-09 14:41:39
Serves 30
Filled with oats, toasted pecans, and plump juicy raisins, these oatmeal cookies don't disappoint! And with a few healthy swaps, you don't even need to feel guilty about them.
Ingredients
1 [1/2] cup raw pecans
2 cups raisins
hot water
1 tablespoon vanilla extract
1 [1/2] cup whole wheat pastry flour
3 cups rolled oats
1 teaspoon baking powder
2 teaspoon ground cinnamon
1 teaspoon ground nutmeg
[1/4] teaspoon ground cloves
1 teaspoon coarse salt
[1/2] cup dark brown sugar
[1/2] cup sugar
[1/2] applesauce, unsweetened
[1/2] cup unsalted butter, room temperature
3 large eggs, room temperature
2 teaspoons vanilla extract
Instructions
Preheat oven to 350 (dgF). Place pecans on baking sheet and bake at 350 for 5-7 minutes until golden brown. The pecans will continue to crisp after you take them out of the oven.
Place raisins in a medium bowl. Cover with hot water and 1 tablespoon vanilla extract. Let sit while pecans bake.
In a medium bowl, whisk together flour, oats, cinnamon, nutmeg, ground cloves, baking powder, and salt. Drain raisins and pat dry with a paper towel. Toss raisins with flour mixture and set aside.
Once pecans have cooled, chop pecans and set aside.
In a large bowl, combine butter, applesauce, brown sugar, and sugar. Beat with an electric mixer on medium high speed until light and fluffy (approximately 1 [1/2] – 2 minutes).
Reduce mixer speed to low, and add eggs one at a time. Add vanilla extract.
Using a spatula or wooden spoon, add flour mixture a little bit at a time, stirring to combine as you go. Fold in chopped pecans.
Line 2 baking sheets with parchment paper or silicone mats. Scoop out cookie dough using a teaspoon cookie scoop or with a small spoon. The cookies won't spread out very much so you can keep them close together (1- 1 [1/2] inches). Flatten cookies with with a damp hand.
Bake for 12-15 minutes, until golden brown. Remove from cookie sheets on to rack to let cool completely.
Store in an airtight container in the fridge for up to 1 week, or freeze for up to 1 month.
Adapted from Ina Garten's Raisin and Pecan Oatmeal Cookies
Badger Girl Learns to Cook by Kimberly Aime https://learntocookbadgergirl.com/
Recipe Review:
Before launching into how amazing these cookies are and why you really should try this recipe, let's go over some of the changes I made. Ina, please forgive me.
– I forgo the stand mixer for the an electric hand held. I have come to the conclusion that you rely on how you were raised. My mother never had a stand mixer, so I never used one. I have one now, but it's rare that I pull it out. I love my hand held, but I know this could be easier if I used a stand mixer. If you decide to use one, use the paddle attachment. That's what Ina said to do.
–I replaced the white flour with whole wheat pastry flour.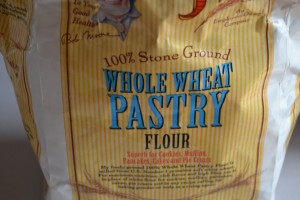 This is a given for every baked good I make. If you are just getting started with clean eating, this is a great way to begin your substitutions.
– I replaced [1/2] cup of butter with [1/2] cup applesauce.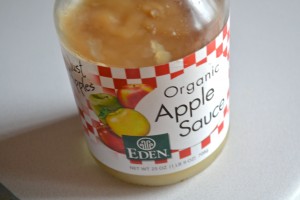 I knew I had to keep some butter in there, but I just couldn't justify 1 cup. This results in a more moist and cake-like cookie.
– I increased the amount of raisins (by [1/2] cup) and soaked them in hot water and vanilla. I am a huge fan of soaking raisins to make them more plump and juicy.
–I tossed the raisins with the flour mixture so they would evenly distribute throughout the cookies.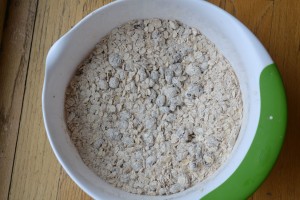 I can't really vouch that this works for cookies, but I read about it and thought I would try it. It didn't seem to hurt and the raisins were well distributed.
– I added more spices. The original recipe only called for 1 teaspoon of ground cinnamon. I love all the spices in raisin oatmeal cookies and spices are a great way to increase flavor without increasing fat.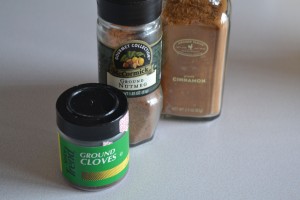 I doubled the cinnamon, added 1 teaspoon ground nutmeg, and [1/4] teaspoon ground cloves. Truth be told, I would have also added allspice, but my spice drawer is the bottom drawer, I couldn't find it, and I'm really pregnant. It didn't take long for me to give up on that search.
–I cut the sugars in half. Ina called for 1 cup of sugar and 1 cup of brown sugar. That's a lot of sugar. Too much sugar, in my humble opinion. I don't like cookies that are so sweet, my lips pucker. I would rather taste spice than sugar, so cuts had to be made.
The result?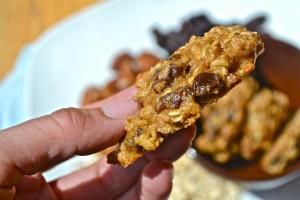 I am over the moon about these cookies. I love the natural sweetness from the pecans and the spice that is packed into each cookie. I am normally a 'go-chocolate-or-go-home' kind of girl, but these cookies still satisfy my growing sweet tooth.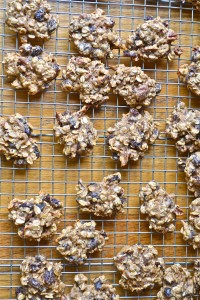 I froze half the batch and I am happy to report that they have retained their taste and texture when thawed. With the amount of oatmeal packed into each cookies, they taste more bar-like than cookie and I would even dare to say that they feel a little more healthy. With a side of fruit, they don't make a bad breakfast.
This would be a great cookie to have on hand when the kiddos are home for the summer.
************************
Who's your favorite Food Network personality?