Bill Horzuesky is the executive chef at Bluephies and the soon-to-open Luigi's in Madison, WI. Kris Herbrand is his partner in crime, his assistant sous chef at Bluephies and general manager at Luigi's.
Luigi's will open September 26, 2011.
Bill's Background
Bill grew up cooking with his mother in Chicago. When he was sixteen, he started to work in the restaurant where she worked. He says that from the experience, he can still make breakfast faster than just about anybody. They moved to Madison and he put in an application at Rhode Steakhouse. At the time, there were no openings but he got a call on Sunday morning, Mother's Day, and was asked to start immediately as the dishwasher. He accepted and from that point on, he was hooked. He started doing prep work for the kitchen and soon was skipping school to prep for the evening rush. By the time the place close, he was the head of the night line. He has been the executive chef at Bluephies for twelve years.
Kris's Background
After college, Kris wanted to try his hand at professional cooking. He applied at all of his favorite Madison restaurants. He started at Bluephies as a server but after two days, he requested to move into the back. He went into the kitchen with 0% professional experience and emerged that night with band aids on both hands. He cut one hand with one knife, bandaged it and then cut his other hand. It was not the prestigious beginning he had envisioned but he persevered and four years later, he is the assistant sous chef to Bill at Bluephies and will be the general manager of Luigi's.
Kitchen Hierarchy
As we were talking, terms like 'line cook' and 'sous chef' were being thrown around left and right. Finally I had to ask, what does it all mean? What's the hierarchy in a typical kitchen. Bill and Kris explained the hierarchy at Bluephies and joked that the higher you got, the less cooking you actually do. In a sense, you are demoted as your promoted.
From bottom to top, here are the levels:
Dishwasher
Prep cook– prep different sauces and relishes that go into the dishes. They gave the example of the Bluephies popular black bean corn relish. The prep cook makes the relish and then the line cook adds it to the dish.
Line cook- assemble the food that people order
Line supervisor– supervises the line
Kitchen manager– oversees and supervises the kitchen.
Sous chef– assistant to the Executive Chef
Executive Chef
Bluephies
Located on Monroe street, Bluephies has been a Madison fixture for 18 years. The restaurant specializes in comfort food with a twist. It's a restaurant that is serious about having fun. Bill and Kris joke that they are willing to try anything, as long as it is legal.
Trademark dishes include meatloaf, ooey gooey pasta (which they suspect is popular because it so fun to say) and chocolate chip cookie dough egg rolls. In case you are wondering (as I was), the chocolate cookie dough egg rolls are made by filling egg roll wrappers with chocolate chip cookie dough and then frying them.
Luigi's 2.0: All of the class with a dash of kitsch
Kris and Bill are preparing for the opening of Luigi's, located in the Sequoya Commons near Hilldale mall. This is, in a sense, a re-opening of a Madison legend. It was closed eight years ago and occupied the same space as Tipsy Cow downtown (corner of King and Main). They have the same construction workers and architects from the old Luigi's. Bill and his wife worked at the original restaurant downtown.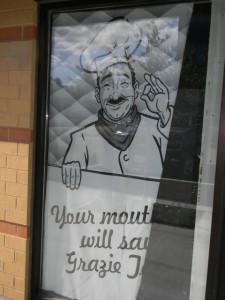 They plan on keeping the house favorites–thin crust pizza, the meatballs–and the original casual atmosphere but are also planning to add their own fun twist. Customers will enter the restaurants as guests of honor on the red carpet. Inside, you will find venetian lamps and chandeliers coupled with red and white check table cloths and barn door tabletops. There is a front booth that will contain a surprise, which of course, is a secret. All I know is that word on the street is that you want to sit in that front booth.
The restaurant will serve locally brewed beer and wine on tap. If you come, plan on having a good time. It sounds like it will be hard not to with these guys in charge.
Advice to New Cooks
Bill and Kris are passionate when they talk about their roles as cooks. Bill told me that he doesn't tell people he is a chef, he tells them that he cooks. For him, cooking is a craft and he has worked hard to perfect that craft.
Their biggest advice: be patient and be ready to make mistakes. For Kris, it took him one year to become 'good' at cooking and that was cooking 40 hours a week! So for me cooking 4-6 hours a week, it could take quite a while to hone my craft.
Bill said to use a recipe but don't look at it. The world will not end if you don't follow the recipe. Start by looking at it but change things according to your taste. Trust your palette.
They also shared the belief in the power of the pan. You can have a hundred cheap pans that look nice but you are better of with one or two really nice pans. They recommended All-Clad, Le Creuset and for the more budget conscious: Calphalon Professional or Essential Series.
Bacon Vodka
Bluephies is a vodkatorium. They have 90 different vodkas! According to Bill, they were also the first restaurant to make their own bacon vodka.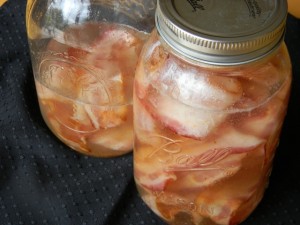 This is something you can do at home and will make some killer Bloody Marys. Click here for a recipe.