How did I live so long without making fish tacos? I spent years afraid of making fish and then when I did brave the seafood counter, I played it safe. Too safe. Grilled or baked with little to no seasonings.
No wonder I didn't like making fish at home.
After making my 2013 goals, I knew I had to at least try to make fish tacos. Now, I can't get enough of them. Sweet, smoky, spicy, with a twist of lime. These fish tacos are packed with flavor. Not to mention, they cook super fast which makes this an easy (and healthy) weeknight meal.
The pictures below are brought to you by my I-phone. Manatee hid the memory card of the camera but I was desperate to get you this recipe as we move into Lent, a time when Catholics everywhere become obsessed with fish on Fridays. Personally, I don't believe in limiting this obsession to Fridays or Catholics. It's my new 'green eggs and ham recipe,' I could eat it here or there, I could eat it anywhere and anytime with any person. I already can't wait to make them again.
Lime Chili Tilapia Tacos
recipe modified from AllRecipes.com
[1/4] cup olive oil
2 TB. white vinegar
lime zest from 1 small lime
lime juice from 1 small lime
1 [1/2] tsp. honey
[1/2] tsp. cumin
[1/2] tsp. chili powder
[1/2] tsp. smoked paprika
1 tsp. Old Bay or seafood seasoning
[1/2] tsp. ground black pepper
1 [1/2] tsp. Sriracha
1 pound tilapia or cod
1. In a medium bowl, whisk together oil, vinegar, lime zest, lime juice, honey, cumin, chili powder, paprika, Old Bay, black pepper, and Sriracha.
2. Place fish in an airtight container. Pour marinade over fish. Cover and shake to disperse the marinade. Let sit at room temperature for 30 minutes to an hour OR let sit in fridge for 2-4 hours. (I like the room temperature model as it means I can make this after work and don't have to think too far ahead of time).
3. Heat a medium-sized saucepan over medium-heat. When the pan is hot, place fish in pan and pour the remaining marinade over the fish. Because there is some oil in the marinade, you don't have to worry about adding extra oil to the pan.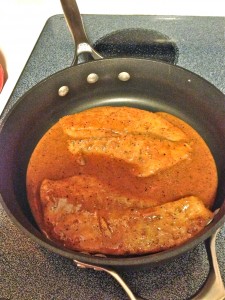 4. Cook for 1-2 minutes and flip the fish. Cook for an additional 2 minutes. Repeat until the fish flakes easily with a fork, approximately 5-7 minutes.
5. Break apart the fish and stir so that it soaks in the remaining marinade. Reduce heat to low and cover until ready to serve.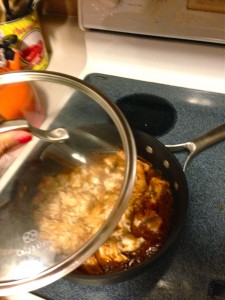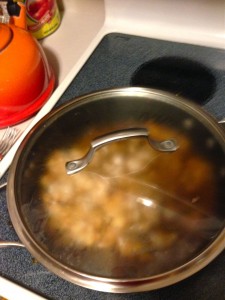 6. Serve in corn tortillas with sliced radishes, avocado, coleslaw mix, and a squeeze of lime juice.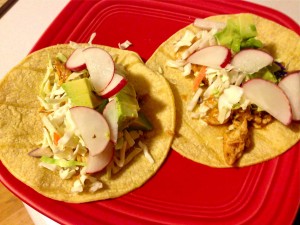 Recipe Review:
You want the fish to shine, so it's important to keep the garnishes simple.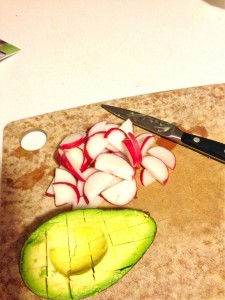 I love peppery radishes and smooth, cooling avocado. Add in some coleslaw mix or shredded lettuce, a squeeze of lime, and you have the perfect fish taco.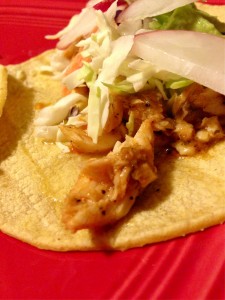 In terms of fish, I have tried the tacos with cod and tilapia. I have to say that I am partial to tilapia, but you could really use any mild-flavored white fish.
Enjoy!
***********************
This whole 'cooking fish' thing is new to me. What is your favorite way to prepare fish at home?