If you follow me on Facebook, you may have seen that through the holidays, I am doing weekly healthy challenges. I thought I would extend it to the blog and invite all of you to join us. This week's challenge:
Do something active every day.
It's easy to get caught up in a whirlwind over the holidays. Late nights, lots of social outings, or just plain, too many errands, all of these excuses may lead us to omit our regular workout routine. It becomes easy to put off working out until the new year.
Don't do that.
The longer you take completely off from working out, the harder it will be to get back in a routine. Remember, something is always better than nothing when working out. Can't get in your regular gym routine? Too cold to run outside? Don't focus on what you can't do, focus on what you can do.
Can you go for a short walk around the block? Can you do an extra lap or two around the mall? Can you get your family members outside and playing football after Thanksgiving dinner? Can you do 15 pushups and 15 squats before you jump in the shower? Can you walk or run on the treadmill for 20 minutes while watching your favorite show? Can you do leg lifts during the big football game?
Train yourself to do something active every day. In addition to the physical benefits of moving your body, you are showing yourself that you deserve to take the time just for you, even if it is just a few minutes. You are also building your discipline which you will need to maintain a healthy and active lifestyle.
Homemade Protein Bars
With our little weekly healthy challenge, I thought I would also share with you one of our favorite healthy recipes. These Pumpkin Protein Bars capture the holiday spirit, but are also packed with protein. If you are looking for a good breakfast bar to tide you over to the big meal or to power you through some Black Friday shopping, these are the bars for you.
In general, Manatee won't touch baked goods. He is not a sweets person. When I make cookies or bars or anything resembling a dessert, I either send the extras to his office or freeze them (or both). There is one exception to the rule: Pumpkin Protein Bars.
I designed this recipe for Manatee. I got the idea originally from Sarah at Peas and Thank You. After months of tweaking, I have come to a recipe that works perfect for Manatee: high in protein, whole grain flours, and very little added sweeteners.
These bars freeze really well, so I make a big pan, and then freeze the bars in separate bags. Just move the frozen bars to the fridge overnight and you are good to go in the morning.
Pumpkin Protein Bars
3 cups whole wheat pastry flour
[1/2] cups ground oats
1 cup protein powder
3 TB. Chia seeds
2 TB. pumpkin pie spice
1 TB. baking powder
[1/2] tsp. salt
1 (29-ounce) can pumpkin puree
1 (14-ounce) package of soft tofu
2 TB. vanilla
1 cup mini chocolate chips
1. Preheat the oven to 350 (dgF). Grease and flour a 9×13 cake pan.
2. In a large bowl, whisk together flour, oats, protein powder, chia seeds, pumpkin pie spice, baking powder, and salt.
3. In a blender, combine half of pumpkin puree, tofu, and vanilla.
4. Blend until smooth. You may need to stir it together to keep it going.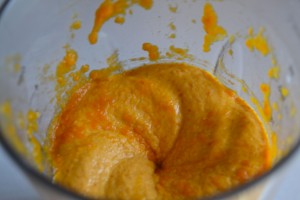 5. Repeat with remaining pumpkin puree, tofu, and vanilla. Use a wooden spoon to combine pumpkin mixture with flour mixture. The batter is going to be dry and thick! Don't give up and don't taste it. Trust me, it's nasty, but I promise it's amazing once you bake it.
6. Fold in chocolate chips and stir until even distributed.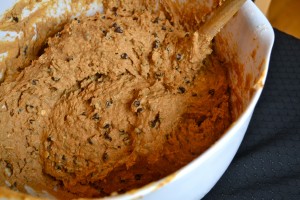 7. Use a spatula to spread the batter in prepared pan.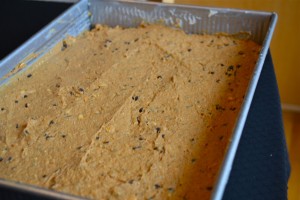 8. Bake for 35 to 45 minutes until top is golden and cracked.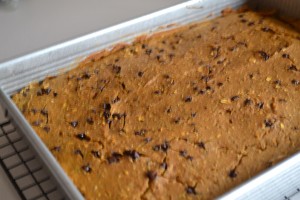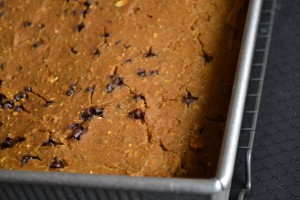 9. Let cool completely in pan and cut into squares. Store in refrigerator. Bars will be dense and packed with moisture.
Recipe Review:
These bars will power us through the holidays. It's so easy to reach for treats when you are tired. These taste like treats but are packed with so much great protein that they are healthy for you too!
The only sweeteners in these bars are the vanilla and chocolate chips. Though the batter is a little bitter, don't give up on these bars. Once you bake them, the chocolate melts enough to give the bars their sweetness.
I have to admit that when I first made this variation, I almost threw the batter out. I tried some and was just so disappointed and disgusted, but I decided to bake them anyways. Thank goodness! Now these are a staple in our household.
**************
Are you with us on our weekly challenge of doing something active every day? What other ideas do you have for sneaking in some physical activity to your busy schedule?