Hello! Tomorrow morning, I will be on Madison News Channel 3 to talk about school lunches and shortcuts. Two of my favorite topics!
I cannot believe how fast summer went and yes I know it is such a cliche. We stayed true to our word and I could have won a Worst Dressed Mama award, but damn, did I have a good time this summer.
And the best part? Because I hate feeding children IN my house, I feel totally prepared for packing G's lunch for kindergarten. We have eaten 90% of our lunches outside and 9% of the remaining 10, were lunches I bought somewhere. We were down to 1% of our lunches at our kitchen table. Major win for mama. Transitioning into school lunches should not be a stretch.
I want to be very clear: I am ready to pack G's lunch. I am NOT ready for her to go to kindergarten. I can't think about that too much, but I can think about all the fun accessories that I have accumulated to make sure she won't forget me for that whole day she is gone.
I am kidding. Half kidding.
And we all know she is going to need therapy. But back to those accessories….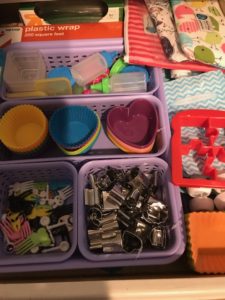 And let's talk lunches. I am going to start sharing more of our lunches here and on my new Instagram account: @almosttotallyfromscratch.
It's not going to be overly cute shapes and super fancy stuff. Okay, so maybe it will be a little cutesy stuff, but it's important for me to keep lunches simple and familiar for G as she embarks on this new adventure. Here has been a pretty standard adult and kiddo lunch for my girls and me and my mom.
Kiddos: Roasted red pepper hummus, carrots, celery, cucumbers, string cheese, gluten free crackers, blueberries, and cherries.
Adults: Aldi's chicken salad, carrots, celery, cucumbers, gluten free crackers, blueberries, and cherries.
Extra snacks: Nonfat Greek yogurt swirled with jam in reusable pouches.
We call these our snack plate lunches. They are easy to eat and pack a nutritional punch. They are also fun to eat with lots of dipping possibilities.
In a future post, I will share all my favorite lunchtime accessories and containers. But in the meantime, I need to obsessively check everything I am supposed to bring tomorrow and try to fall asleep at a decent time.
Wish me luck my friends!