Matt Pace
is the executive chef of
Tex Tubb's Taco Palace
and at
Monty's Blue Plate Diner
. I sat down with him recently to talk tacos. He shared with some great ideas to take your taco night to the next level.
I wrote about Matt Pace and Monty's Blue Plate Diner earlier this year.
Tex Tubb's Taco Palace: Come As You Are
Matt Pace is the executive chef for Tex Tubb's Taco Palace. Tex Tubb's Taco Palace is located in the Atwood neighborhood on the East side of Madison. Matt has been there for the last six months and during that time, he has worked to turn it into a from-scratch kitchen that utilizes local ingredients.
As you may have guessed, Tex Tubb's Taco Palace is known for its tacos. With something as simple as tacos, freshness and quality is paramount. Most of the dishes have only a few ingredients so those ingredients need to be the highest quality possible. They even make their own tortillas twice a day for their specialty tacos including the tilapia, pork belly, and grilled steak tacos.
Matt wants to present unique dishes but also wants to remain faithful to Mexican cuisine. To do that, he incorporates traditional ingredients to give the dishes a new spin for Madison.  For example, they use an achiote paste (recado rojo) that is traditionally found in the Yucatan region of Mexico to make one of their signature sauces. This sauce is paired with a tilapia taco and can be used with smoked pork and chicken. He let me take some home and it was an amazing combination of smoky, sweet, and tangy. And of course, Manatee loved it on his salads.
If you are looking for indulgence, Matt recommends the pork belly taco. Pork belly is a foodie's dream with its layers of meat and fat. Matt and his kitchen staff cook it low and slow like pork shoulder until right before they serve it, then they sear it. This results in the perfect juxtaposition of crispy, juicy, and tender.
Live Entertainment 
I am very excited about the live music at Tex Tubb's Taco Palace because it gives me an opportunity to promote my cousin-in-law, Frank Busch. Frank is the lead singer of Madison's favorite band, The Mighty Short Bus. Frank plays solo in the Atwood neighborhood every other Tuesday.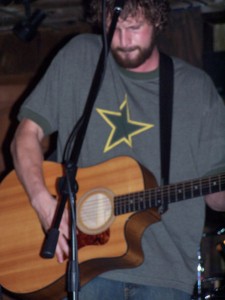 To get you on his schedule, his next night will be November 1st. Frank's style of music is Southern rock and he is the recent Project Triple M winner.
On the opposing Tuesday, you can find the three-piece bluegrass band, Boo Bradley, playing in the bar.
Frank or Boo Bradley are there on Tuesday nights from 5:30-8:30 pm. They are set up in the bar so you can either be avid listeners or enjoy the music in the background if you choose to sit in the dining room area. Frank Busch will be there next on November 1st and Boo Bradley will be there next on November 8th.  There is no cover charge.
Tips from the Taco King
Less is more in terms of ingredients.
Think of it like a hamburger. It's all about the protein. Like a burger, you can all the toppings you want but when it comes down to it, the meat is the main event.
Even though it's about the protein, you can add toppings that highlight the meat.Try Cojita.
This is a flavor packed dry cheese. I found some at Woodman's. It's similar to Parmesan but I would argue it has a ton more bite.
Either buy good tortillas or make your own at home.  Mercado Marimar is a great Mexican grocery store in Madison. They sell a great tortilla mix (Mesaca) and tortilla presses. Matt uses the tortilla mix at Tex Tubb's Taco Palace.
Matt's Recipe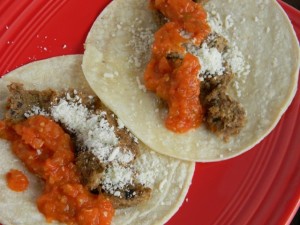 In the new few weeks, I am going to try his recipe for achiote sauce and try my hand at making my own tortillas. Check back to hear how it goes!