Matt Pace is the executive chef at Monty's Blue Plate Diner in the Atwood Avenue neighborhood of Madison, WI.
Where there's a will…
Like many of our local chefs, Matt grew up in a family in love with cooking. He jokes as soon as they got up in the morning, they were talking about dinner that night. Holidays were centered on traditional foods with the entire family anticipating his grandmother's repertoire of Dutch, German and Italian dishes. He grew up outside of Chicago and he came to the Mad City for college.
After graduating from the UW with degrees in English and Psychology, it was now or never for him to follow his dream. He secured a paying job at the Madison Club and then sought out one of his favorite restaurants downtown and volunteered to work for free until they could pay him. After three months, Harvest added him to the payroll. After Harvest, he moved on to Restaurant Muramoto on King Street and then L' Etoile before taking the executive chef position at Monty's Blue Plate Diner.
Monty's Blue Plate Diner
In Madison, Monty's Blue Plate Diner is an institution. Opening in 1990, Monty's is known for its made-from-scratch comfort food and diner style atmosphere. But this is east side Madison, so in addition to the typical meatloaf and chicken pot pie, you have 'meatless loaf' and enough dairy-free, meat-free, gluten-free options to cater to any and every customer's needs.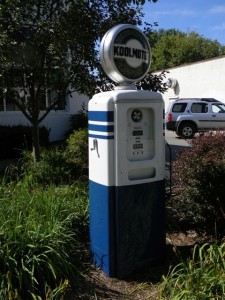 In taking on the executive chef role, Matt must achieve a balance between catering to the expectations of the diner and infusing the menu with his own personal touch. He talks passionately about his old style of cooking: make it from scratch, use local products and keep it simple. He uses the daily specials to try out his new dishes that stay true to the restaurant's core. Currently in the works, Matt is working on adding a regular falafel item to the menu.
A good neighbor
Monty's Blue Plate Diner relies on many local partners. Sassy Cow Creamery provides all of the diner's dairy products. For their coffee, Matt and his staff got to try all the different coffees at Just Coffee before selecting the beans that would go into the blend that is served at the diner. Produce and salad greens come from Burr Oak Gardens. The diner gets all of its meat from Black Earth Meats in Spring Green. Matt waxes poetic about the eggs from Midwest Healing Herbs and Grains in Stoughton.
Can't get to Atwood?
Monty's Blue Plate Diner also has a food cart. On Saturdays, you can find the cart on the square downtown. During the week, you can find the cart on Library Mall Tuesday through Friday during the day from 9 am to 2 pm.
Specials and special events
In addition to daily specials, Monty's also has some recurring weekly specials. Every Wednesday night, you can get a deal on pot roast. And like every true Wisconsin restaurant, Friday is reserved for the traditional fish fry.
Isthmus a La Carts
On September 23rd from 4- 8 pm, Monty's Blue Plate Diner will take part in Isthmus a La Carts. This is Madison's first food cart festival. It will feature food carts from local restaurants and will be located on the corner of John Nolan Drive and Lakeside Street, near Olin Park. Tickets are $17 if bought in advance and $22 the day of the event.
Matt's Advice to New Cooks
Cook a lot.
Seriously.
Professional musicians practice and perfect a musical set. This is a collection of songs that they can pull out and they are confident that they can perform these pieces well. As a chef, you need to think like a musician. You need a repertoire of dishes. And like the musician, if you only practice a song twice a year, then there's a chance you may not perform flawlessly.
It's fine to begin with recipes but don't get locked into relying on them. Think of it more as a process. Look at recipes for similar dishes and take note of the similarities.  Make it. Make it again. Repeat.
It's not as much learning to cook, but learning to problem solve. Even if you make the exact same recipe with the exact same ingredients, you will not get the exact same result each time.
Matt's Go-To Dishes
Got chicken legs, sausage and veggies? Then you have what it takes to make this one dish wonder.
Click on the picture to go to the recipe.