Michael Pruett is the executive chef for Steenbock's on Orchard and Aldo's, both located in the Wisconsin Institute of Discovery Center on the UW Campus
.
Background
Working as a server at a restaurant in the Los Angeles area, Pruett was much more interested in what was going on in the back of the house. As the pre-dental student asked more and more questions, he was encouraged by one of the chefs to attend culinary school. Lucky for Madison, he made the switch and enrolled in a culinary school in Pasadena. After completing his studies, he continued working in California for ten years before moving back to Wisconsin. Three years ago, he came to Madison and was the executive chef at Johnny Delmonico's. Last October, he made the switch to be the head chef at Aldo's and Steenbock's on Orchard. It was four-tiered opening. Catering began in November, Aldo's opened in December, Steenbock's on Orchard opened for lunch in January and then began serving dinner at the end of February.
What Would Aldo Leopold Do?
Aldo's runs by the motto: What would Aldo Leopold do? Aldo Leopold was a famous Wisconsin conservationist, educator and philosopher. The small café uses local produce and strives to follow conservationist principles in its operation.
When it first opened, it was a coffee shop with several pastries. In the last year, it has expanded to serve more sandwiches (including a breakfast sandwich) and an impressive daily quiche. Pruett predicts that eventually the café will also serve dinner items.
In addition to sandwiches and quiche, the café also serves four types of scones daily: savory, berry, sweet with nuts and chocolate.
Steenbock's on Orchard
Steenbock's on Orchard has a very unique position in the Madison restaurant scene. It's high end in the quality and presentation of food but since it's on campus, it also has a very casual and approachable atmosphere. I am officially jealous of all the students who live in that area. When I lived over there, many moons ago, I think our only dining option was a Cousin's Subs.
While other restaurants are focused on using local ingredients, Steenbock's on Orchard takes this to the next level in their one source farming principle. They get just about all of their produce and meat from Fountain Prairie Farm. The farm has one garden that is totally dedicated to Steenbock's on Orchard. The relationship between Pruett and the farmers is one to be envied.
When talking about the menu, Pruett stressed the sense of play involved with each dish. He tries to use new and innovative styles to help customers re-look at what they are eating. He talked about the popular Sous Vide style that involves cooking at very low temperatures within a packet and using liquid nitrogen to freeze foods to give them a very different, ice cream-like texture. It seems appropriate that the restaurant is located in the Wisconsin Institute of Discovery building.
Steenbock's on Orchard also offers a bar menu at night that includes a range of dishes from duck confit salad to tater tots to pizzas to ahi tuna.
With the restaurant's location, you can almost think of Pruett as helping to shape the palates of tomorrow. He guides customers in with the approachable atmosphere and presents menu items that are familiar but he adds a foodie twist. If he would have been there during my tenure on campus, this blog would be called "Badger Girl Knows How to Cook."
Last Dinners
As a regular event, Steenbock's on Orchard recreates famous last dinners. They have recreated the last dinner on Titantic, Alexander the Great's last dinner and most recently, Leonides (a Spartan King). The attention to detail for these dinners is impressive. Pruett described how the wine flights only include grapes that would have been available at that time. The dinners also often include a performance of some type. At the Leonides event, a local theatre group performed a Greek play and for the Alexander the Great event, there was a belly dancer.
Other Special Events
On Thursday August 25th, Steenbock's on Orchard will host a Tapas and Sangria night from 5-7 pm. There will be live music from the Gypsy Swing Ensemble. Cost is $15 for adults and $8 for kids. For reservations, call 608-204-2733.
Parking Information
Parking can be a bit tricky for both Aldo's and Steenbock's on Orchard. They are working on establishing valet parking. Until then, you can park at Union South in their underground ramp during the day or evening. After 5, you can park in lots 17, 20, and 13 (behind Cousin's Subs) for free. For a map of the UW parking lots, click here.
Advice to New Cooks
Get a sharp knife.
Have nice set of utensils (pots and pans).
Stay organized. Prep everything before you cook and cooking will go that much smoother.
Recipes
Though Pruett did not have any specific go-to meal recipes, he did wax poetic about seared scallops with raisins and nuts. Click the picture below to get the recipe.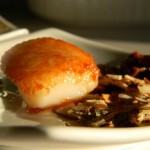 And don't forget!
Both Steenbock's on Orchard and Aldo's have patios.
For more information, check out their websites:
You can also find information about their daily specials on their Facebook pages.
Like Steenbock's on Orchard on Facebook