Like Nutella? Then you will LOVE these cookies. All the chocolate hazelnut goodness of the creamy spread in a cookie. These may be good additions to your Christmas cookie tray, but I think you should keep these gems to yourself.
Background
In search of something sweet, I have developed a habit of eating spoonfuls of Nutella. Sometimes, I feel the need to make it healthy so I sprinkle Chia seeds on top. Not sure how much it helps, but it makes me feel a little better about my habit.
I think there is nothing more satisfying than savoring a spoonful of chocolate, hazelnut goodness. It's rich enough where I only need a little bit, but boy is that little bit satisfying! So when I saw a recipe for Nutella cookies in Vegetarian Times, I had to make them that very same day. I love my spoonful of Nutella but I suspected that putting it into a cookie would be much more socially acceptable.
Chocolate Nutella Cookies
Adapted from Vegetarian Times recipe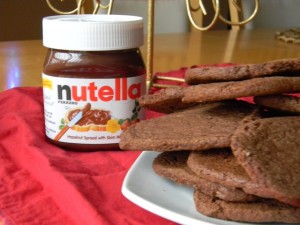 1 3/4 cup whole wheat pastry flour
1/4 cup unsweetened cocoa
1/2 teaspoon baking soda
1/2 teaspoon fine salt
1 cup Nutella
1 stick Earth Balance vegan spread
3/4 cup brown sugar
1 large egg
Whisk together flour, cocoa, baking soda, and salt in medium bowl.
In a large bowl, beat Nutella and butter with an electric mixer on medium until combined.
Beat in brown sugar and then egg.
Beat in flour mixture with mixer on low speed until dough forms.
Transfer dough to wax paper and form into a 2 inch diameter log.
I took pictures of this and then realized that it was totally not appropriate for a food blog. 🙂
Wrap tightly in wax paper and chill for at least 2 hours or overnight.
Preheat oven to 350 degrees and line a baking sheet with parchment paper.
Slice dough into 1/4 inch slices.
Transfer slices to the baking sheet. Bake for 11-12 minutes until firm and dry. Transfer to wire rack to cool.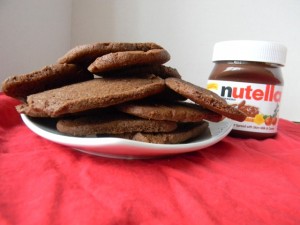 Recipe Review: Yum.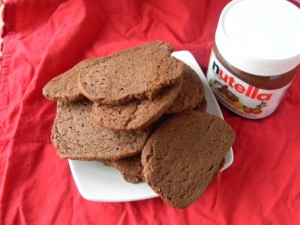 Okay, I guess I can say more. These are fantastic! I ended up freezing the whole batch and every night I take out a cookie to eat with my tea. So good!
This will be my personal sweet treat to get me through the holidays.