Wait, what?
Clean Eating Cocoa Krispie Bars?! How does that work?
How can THESE be clean?!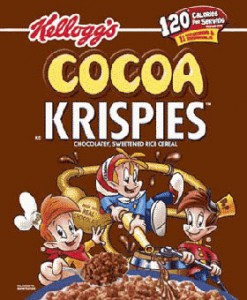 Don't worry. The universe has not shifted and no, Cocoa Krispies are definitely NOT clean.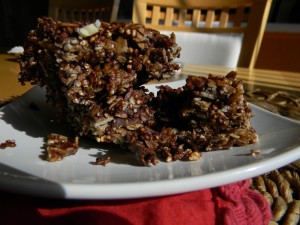 These bars just taste like Cocoa Krispies and trust me, they are waaaaaay much better for you. 
Clean Eating Cocoa Krispies Bars
2 cups rolled oats
3/4 cup raw quinoa
1/3 cup sliced almonds
1/2 cup flaxseeds
1/2 cup honey
1/4 cup organic brown sugar
1 tablespoon coconut oil, plus more for greasing the pan
1 teaspoon vanilla extract
3/4 cup chocolate covered popped amaranth*
1/2 cup raisins
*What you don't have chocolate covered popped amaranth?! Try 1/4 cup mini chocolate chips and 1/2 cup brown puffed rice OR 1/4 cup mini chocolate chips and increase quinoa to 1 cup
The Prep: Grease 9×9 baking dish with coconut oil. Preheat oven to 350 degrees.
The Roasting:  Spread oats, quinoa, almonds, and flaxseeds on a cookie sheet. Place in oven and roast for 15 minutes, stir often.
Heat it up: Combine honey, brown sugar, and coconut oil in a small saucepan and place over medium heat. Heat until sugar is dissolved. Transfer to large mixing bowl.
Mix it up: Remove oat mixture from oven and reduce oven temp to 300 degrees. Add oat mixture to large mixing bowl, add chocolate covered popped amaranth and raisins. Stir to combine.
Bake it: Press mixture into prepared 9 x 9 pan. Bake for 25 minutes. Remove from oven and let cool completely.
Recipe Review:
At first bite, these were a little sweet for me. They really do taste like Cocoa Krispies.
After I got over the initial shock, I found that I really liked them. And Manatee's co-workers devoured them.
Do know that they are a little crumbly. But to be honest, my favorite part was the leftover crumbs.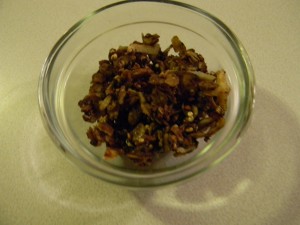 It was like chocolatey goodness granola.
So in short, it was AMAZING.
**********************************
Did anyone else find chocolate covered popped amaranth? Because I have a hankering and I can't find them. 
What was your favorite cereal as a kid?