Happy Healthy Blogger Thursday!
I am so excited to introduce you to this week's healthy blogger, Lyn from The Lovely Pantry. As you know every Thursday, I feature a new healthy blogger. To view past healthy bloggers, check out the Badger Girl Healthy Buddies page.
I really respect Lyn because of her common sense approach to cooking. She is not afraid to substitute what she has on hand and pretty much taught herself how to cook. Oh, and did I mention her food always looks gorgeous? Make sure to check out her blog after you read her post below on Quinoa Brownies. Yes, Lyn found a way to make brownies healthy. Gotta love this girl!
Without further adieu,
heeeeerrrreeee's Lyn!
*******************
Hello there, folks! I'm Lyn and my blog is called The Lovely Pantry. I showcase recipes that I make for my family in an effort to not only prepare home cooked meals, but also to focus on eating as healthy as possible, while teaching my children by example. Funny thing is, its not as easy as it sounds! So, every now and again – I'll prepare a lightened up version of something that I'd probably feel really guilty about having seconds 🙂 Its okay to indulge, but know that it better be worth the additional 30 minutes to your work-out. Its all about balance!
Although I don't have any food allergies or sensitivities, I do have family, friends and readers who are diabetic, have gluten sensitivities, are lactose intolerant, vegetarian or (like me) just want to maintain their figure. There is something for everyone on my blog ~ I make sure of it. I also prepare Jamaican inspired meals because I love my Jamaican heritage, food and culture! I currently reside in Toronto, Canada where I maintain my warm and sunny disposition all year long 🙂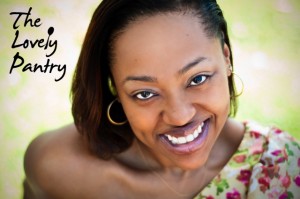 Today I'm sharing a recipe with one of my favourite ingredients and super foods ~ Quinoa.
Quinoa is most definitely one of the world's healthiest foods with a combination of vitamins, minerals and high protein content. Quinoa is ideal for those who are sensitive to gluten, as it is not wheat based. Quinoa is typically found in seed form, in colours like white, red and golden. For baking, I use Quinoa Flour – either by itself (depending on the recipe) or in combination with all-purpose or whole-wheat flour.
I should probably just go ahead and confess to you all now. I have a chocolate problem. But you know, sometimes you just have to satisfy your sweet tooth as best you can. Today I'm pairing Quinoa (The Mother Grain) with Brownies. This is such a fast way to make a tasty chocolatey treat!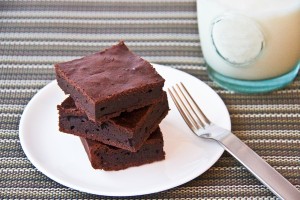 Quinoa Brownies
Ingredients:
10 Tbsp Butter
1 1/4 Cups Superfine Sugar
3/4 Cup Cocoa Powder
1 Tsp Vanilla Extract
3 Eggs
1/2 Cup Quinoa Flour
Instructions:
Preheat oven to 325F
In a saucepan, add butter, sugar and cocoa. Melt over low heat and stir until combined.
Pour mixture into a medium bowl, whisk in eggs and vanilla.
Sift in flour, stir to incorporate.
Pour mixture into an 8X8 cake pan, lined with parchment paper.
Bake for 30-35 minutes.
Perhaps I shouldn't mention how well vanilla ice-cream compliments this treat. Okay, never mind. Forget I said it.
Thank you, Kimberly for inviting me to Guest post at your wonderfully healthy blog! A big thanks to Jessica for introducing us! I really love our little network! Kimberly, please continue to inspire us with your culinary journey.
******************
What is your favorite chocolate treat?