This recipe is a solution to a problem.
And that problem is parsnips
. We get parsnips every year in the CSA and I usually end up stockpiling them in our produce drawer with all the best intentions. Then Manatee gets frustrated, waits til I am gone, and throws out all of the parsnips. A fight ensues. I claim I was going to use them for a certain recipe, but we both now it's an act. I just feel guilty throwing them out. This cycle has been on repeat for the last 5 years.
Until now.
I am determined to use these darn "white carrots" every week we get them. My goal is to have a parsnip-free fridge by the time our next CSA comes around.
I can say that week 1 of our CSA is a success. The parsnips are gone! They have been replaced by these surprisingly tasty cookies.
I got this recipe from a mama in our playgroup. She brought over some Carrot Cake Cookies that she claimed were terrible, but we watched all of our kids scarf them down like hot cakes. She was onto something. G can't get enough of them.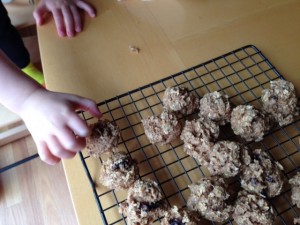 I think the key to this recipe is maintaining expectations. They do not taste like carrot cake. If you want carrot cake, make some damn carrot cake already. Or buy it. Don't try to make a healthy-ish cookie and pass it off as carrot cake. It just disappoints people. Know that this is a not-so sweet cookie that could be a healthy morning snack or a treat you don't have to feel guilty eating or giving your kids. And be happy you can use up your parsnips.
Parsnip Oatmeal Cookies
2015-05-12 12:24:49
A healthy cookie perfect for morning snacks and guilt-free treats. Plump raisins and sweet parsnips pair with whole grains for a cookie you can feel good about eating.
Ingredients
1 large parsnip, peeled (will equal 3 cups grated/finely chopped parsnip)
1/4 cup coconut oil or unsalted butter
1 1/2 cup whole wheat pastry flour
2 cups rolled oats
1 tablespoon ground cinnamon
1 tablespoon baking powder
1/4-1/2 tsp salt
2 large eggs
2 teaspoons vanilla extract
3/4- 1 cup maple syrup
1/2 cup raisins soaked in hot water
Instructions
1. Place peeled, chopped parsnip in a food processor fitted with a chopping blade. Pulse until finely diced. You don't want it to be a paste, but you want chopped very finely so it blends into the batter. You need 3 cups of chopped parsnip. Set aside.
2. Melt coconut oil in microwave and set aside to cool slightly.
3. In a medium bowl, whisk together flour, oats, cinnamon, salt, and baking powder.
4. In a large bowl, whisk together coconut oil, eggs, and vanilla. Stir in maple syrup.
5. Pour flour mixture into wet ingredients in thirds (pour in a third, stir, another third, stir, etc). Just mix until combined. Do not over mix. Drain the raisins. Fold in chopped parsnips and raisins.
6. Chill dough for 30 minutes. While dough is chilling, preheat oven to 325 (dg)F and line a baking sheet with parchment paper. Remove dough and scoop by half tablespoons onto cookie sheet. Do not flatten. Bake for 15-17 minutes until a toothpick comes out clean. Let cool for 10-15 minutes on pan and then transfer to a rack. Store in an airtight container in the fridge for up to 1 week or in the freezer for up to 6 months.
Notes
I prefer not-so-sweet cookies, so I just used 3/4 cup maple syrup but original recipe calls for full cup.
I made them with [1/4] teaspoon salt, but thought they could use more.
You may also want to add chopped nuts or more raisins.
The prep time includes the chilling time and assumes you are making the cookies with a toddler who loves to help. I am sure they could be whipped together much faster in most households.
Adapted from Amy's Healthy Baking
Badger Girl Learns to Cook by Kimberly Aime https://learntocookbadgergirl.com/
Recipe Review:
I have to admit I had my doubts about these cookies. Could I really pass off parsnips as a treat to my daughter (and myself)?
Let's take a look at what happened when I tried to do a photo shoot for these cookies…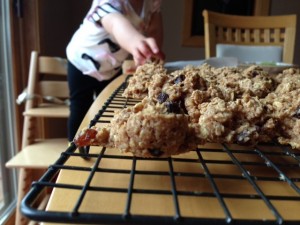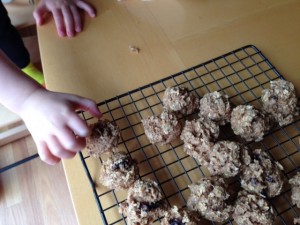 I think it is safe to say that these cookies were a huge hit.
They are just a little sweet and you can just taste a hint of parsnip (which tastes a whole lot like carrots). What you really taste is the cinnamon, raisins, and the nutty sweetness of maple syrup. I think these are a great snack to have around for adults and kiddos alike. I can't wait to have one with my morning coffee tomorrow.
I hope you enjoy them. Viva la parsnips!
**************
What do you like to do with parsnips?