There are some things that are out of your control.
Things like when your water heater breaks or ants decide to invade your kitchen or even when your refrigerator decides that it has lived a perfectly good life and is willing to let go, all within one week of each other. You also can't control when one of your good friends gets brain cancer or another has to move to North Carolina for work, also all within one week of each other.
On the flip side, you can't control when two of your good friends make the monumental decision to spend their lives together or when another friend finally gets the baby she's dreaming about for years. You can't control when 100 rejections turn into an acceptance, when suddenly you have more work than you ever dreamed.
On a lighter note, you can't control the weather, particularly you can't control the weather when you have planned an exquisite picnic for the one night you can actually make it to Concert on the Square together for an entire concert.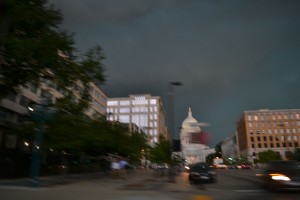 Lucky for us, there are some things you can control.
You can control how you handle yourself when your house has decided to stop working and you can wage war against those pesky ants.
You can control your reactions to bad news and worse news.
You can celebrate with people who are going through good times and you can be the rock for your friends and family who need you.
You can maintain an attitude of gratitude for long hours and hard work because it's why you do what you do.
You can make a kick butt picnic and not be upset that you end up eating it at the kitchen table instead of on the Capitol lawn.
A Picnic in Jars
For us, picnics used to consist of a hunk of bread, some really good cheese, wine, and Hint of Lime Tostito chips. Times have changed.
Lactose intolerance took away the really good cheese, Manatee's sensitivity to wheat removed the hunk of bread, and our new clean eating ways do not include Hint of Lime chips.
I wanted a picnic that would be easily portable and not require a lot of clean up when we got home. I immediately thought of Molly and her ingenious salad in a jar and of course, I then took it about three steps too far.
Drinks in a Jar
Manatee has been favoring vodkas and lemonade lately so I thought I would prep some mixed drinks for us.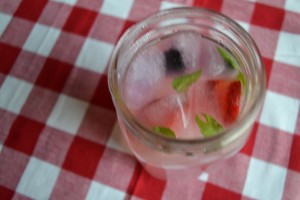 I muddled a handful of mint leaves on the bottom and then added: 1 and 1/2 shots vodka, 1/2 shot triple sec, 1 cup pink lemonade, and 1/2 cup sparkling water. I added berry lemonade ice cubes before we left for the picnic.
 Appetizer in a Jar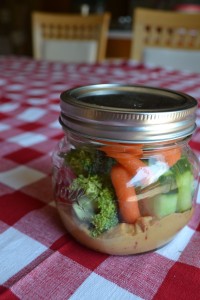 Our picnic began with veggies and hummus in a jar. For Manatee, I put some green olive hummus on the bottom of the jar topped with cut up veggies while I used roasted red pepper hummus. To serve, we just dumped them out on a paper plate.
Mexican Quinoa Salad in a Jar
This was the main event of our picnic.

I started with a simple avocado dressing (recipe below), topped with chopped peppers, black beans and corn, quinoa and lentils (recipe below), and then spinach and shredded lettuce on top. And for those of you who know us, we packed an extra jar of lettuce, because did you really think that would be enough lettuce for Manatee?
Dessert in a Jar
We decided to keep it light and simple with fresh fruit for dessert. I have to say the pint jar kept our portions in check and also kept us from packing way too much fruit.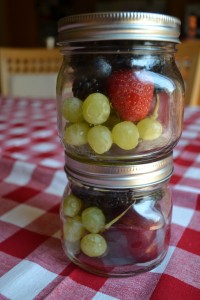 The Picnic
The picnic started off great. We found a cozy little spot on the capitol lawn and settled down. We decided to start with our drinks and a good dose of people watching.
And then came the announcement: "A storm will be coming through in ten minutes. The concert is canceled and we encourage everyone to leave immediately in an orderly fashion. We repeat, we encourage everyone to leave immediately in an orderly fashion."
We downed our drinks and packed up. We were disappointed but didn't think much of the storm. Manatee was more excited about getting home to eat his salad.
In the parking garage, we were told we could leave or stay in underground levels of garage because they were predicting softball-sized hail. We left, not believing them but then we saw the skies over the capitol.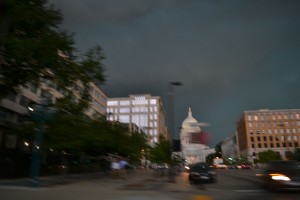 We made a quick detour to Paisans until the storm let up and then made our way home for our picnic.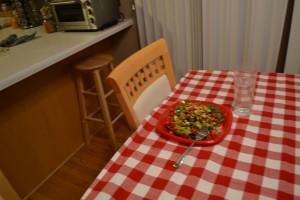 Recipes
Lentil and Quinoa
Prepare the quinoa as per the package directions but add 1/2 cup red lentils with the quinoa. It's a great easy way to add more protein to your meal.
Avocado Dressing
2 avocados
1 clove garlic
1 tablespoon fajita/taco seasoning
1/4 cup fresh cilantro
1/4 cup fresh basil
1/2 teaspoon cayenne pepper
1/2 teaspoon kosher salt
1/2 cup water, divided
Blend avocados, garlic, fajita/taco seasoning, salt, fresh cilantro, fresh basil, cayenne pepper, salt, and 1/4 cup water until smooth. Add additional water to create the desired consistency. If you want a thinner dressing, add more water.
It will stay good for at least two days, and beyond that….well, do you think it will really last for more than two days?
*************************
What are your favorite picnic foods?