When you were younger, was there ever a secret club that you really, really wanted to join? Well, I have been wanted to join the Secret Recipe Club for quite awhile and I finally got the invitation. I am thrilled to be a part of this great group of bloggers and today is my first reveal day.
The Secret Recipe Club connects bloggers and each month, we are assigned a different blog and we get to pick one recipe to post on our blog. With so many amazing food bloggers out there, this proved to be a great excuse to peruse someone else's recipes and find something to try at home.
For my first month, I was assigned to Lynsey Lou's. Lynsey has been blogging since 2008 and I love her style in the kitchen. It was really hard picking a recipe, but I finally settled on her soft and giant M&M cookies. In college, I loved the M&M cookies at the Memorial Union and I was hoping to recreate the magic in my own kitchen.
I did make one major substitution in the recipe. I don't normally use all-purpose flour so I subbed in two whole grain flours.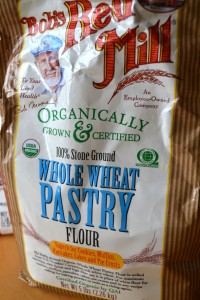 Whole Wheat Pastry Flour: this is a common substitution in "clean" baking. I use it a ton and have had really good results.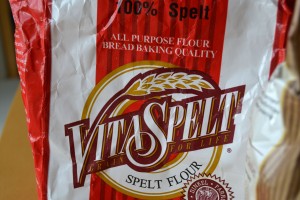 Spelt Flour. This is supposed to have a higher gluten and protein content than whole wheat pastry flour and lately, I have been using it a lot in my baking. It's a wheat-free flour, but does have whole grains. I first read about it in Mark Bittman's How to Cook Everything in regards to bread baking. Here's another post that talks more about spelt flout from Baking Bites.
I will share later how these substitutions affected the final product….
Soft and Giant M&M Cookies
recipe from Lynsey Lou's
2 Cups + 2 Tbsp all-purpose flour
1/2 Tsp baking soda
1 Tsp sea salt kosher salt
1 1/2 Sticks (12 Tbsp) unsalted butter
1 Cup brown sugar
1/2 Cup granulated sugar
1 Egg, room temperature
1 Egg yolk, room temperature
2 Tsp vanilla extract
1 3/4 Cups M&M's (equal to one 12.6 ounce bag)
Directions:
Preheat oven to 325 (dgF).  Line a baking sheet with silicone mat or parchment paper, set aside.
Place butter in a microwave safe bowl, place in microwave and melt.  Set aside and allow to cool.
Sift together the flour, baking soda and salt in a medium bowl and set aside.
Place the granulated sugar and brown sugar in the bowl with the melted butter, using a whisk (or fork) stir vigorously to combine.  Add the egg, egg yolk and vanilla to the mixture and whisk together.  Gradually add the flour mixture to the butter mixture and stir to combine.  (The mixture will look crumbly at first, continue to stir and it will come toether)  Use your hands to combine the ingredients, if needed (Plus it's just kind of funny getting your hands dirty!)  Gently fold in the candies, until evenly incorporated.
Divide the dough to your liking (1/4 cup portions for large cookies and 2 tablespoon portions for smaller cookies).  Form each portion of dough into a ball, then pull each ball apart into two separate pieces.  Turn each half, so that the rough half (the part that used to be the inside of the ball) faces upwards then squish both halves together.  Place the dough, rough side up, on prepared baking sheet.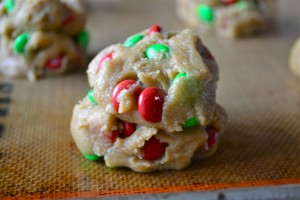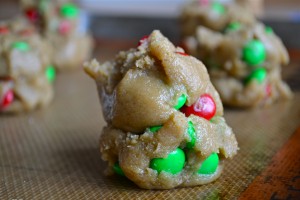 Leave 1-1 1/2 inches between smaller cookies and 2 inches between larger cookies.
Place in oven, for large cookies bake 12-18 minutes and for smaller cookies bake 8-12 minutes.  Until the edges are golden and the centers are soft and puffy.  Do not over bake.
Recipe source: barely adapted from How Sweet It Is
Allow to cool on cookie sheet for 5 minutes, remove to wire rack and allow to cool completely.  Store in an airtight container.
Recipe Review:
How can you go wrong when these are your main ingredient?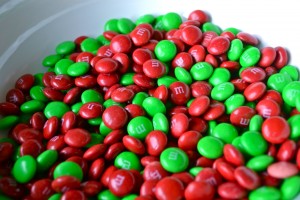 I did try both the small and large sizes. She's not kidding, these are giant cookies if you do the large size.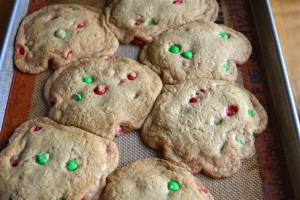 The flavor was fantastic, buttery and sweet with pops of milk chocolate.
My substitution didn't go so well though. That or I overbaked these buys. (Remember this blog is called Badger Girl Learns to Cook?!)
Mine were a tad flatter than hers and not quite as soft as hers looked.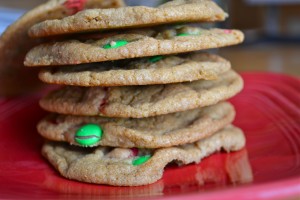 Oops.
They were still really good and addictive. Thanks for the great recipe, Lynsey!