In my (almost) two years of marriage, I have learned the way to Manatee's stomach: clean, spicy, and extra spicy.
He liked my first version of spicy chicken wraps, but I knew I had won him over completely on this version when he refilled his water glass after two bites. Though in defense of my wraps and knowing Manatee, I think he added extra Sriracha to his plate.
By using ground chicken and mixing the spices in ahead of time, this makes for a super fast and super easy dinner. 
As for the spices, let's just agree that you have been warned.
Super Spicy Chicken Wraps
Chicken filling:
1 pound ground chicken
1 small bottle of Thai red curry paste

1/3 bottle of chili garlic sauce

1 banana pepper, diced
1 red onion, diced
1/2 bunch of cilantro, chopped
1 garlic scape, diced optional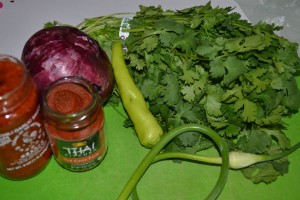 Making the chicken filling:
 This can be done several hours before dinner or even the morning before. The longer it sits, the more the flavors will meld. 
Combine onion, pepper, and garlic scape together.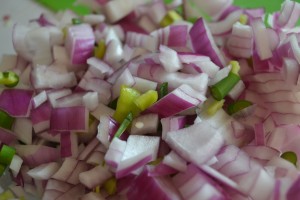 Add the chicken, curry paste, chili garlic sauce, and cilantro. Stir until ingredients are well combined.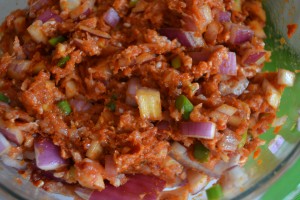 Cover and refrigerate until you are ready to cook it.
To cook, add 1 tablespoon of oil to a saute pan on medium high heat. Add chicken mixture and stir frequently until chicken is crumbling and cooked through.
The steam made it difficult to get a good picture, but you can see how chicken is in small crumbles and more of a light brown than red in color. 
Wrap Ingredients:
Butter lettuce or romaine lettuce leaves
Diced cucumber
Avocado mashed with lime juice juice
Shredded iceberg lettuce
Mayo or sour cream, optional
 Assembling the wraps:
To cut down the heat, spread a thin layer of mayonnaise or sour cream on the lettuce leaf. Add chicken, avocado, diced cucumbers, and shredded lettuce.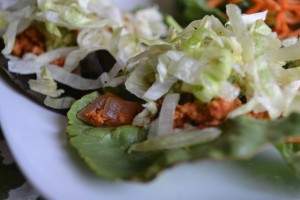 Recipe Review:
Like I said, these are spicy. They are the perfect balance of mouth burning heat and spice with good flavor. 
It might seem a little redundant to top your lettuce wraps with lettuce, but the shredded lettuces adds a crisp, refreshing taste to the wraps. I would not make them without it. But, we all know I am hopelessly addicted to shredded lettuce.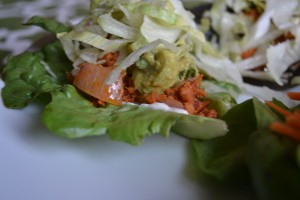 For me, the mayo helped ease the pain spice. This has been a recent discovery for me. Normally, dairy cuts spice but since I don't eat dairy, I needed a substitute. Mayo offers the same creamy spice-neutralizing goodness. You don't need much, but it really helps.
This can also be made into a salad that is just as tasty as the wraps. Depends on if you want to eat with your fingers or a fork. I prefer getting my hands dirty, so I had my salad on the side.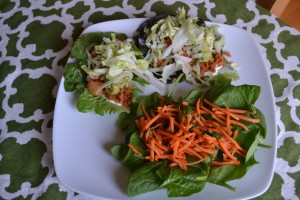 So essentially, I had lettuce on top of my lettuce with a side of lettuce. In short, the perfect meal in our household.
**************************
Do you like spicy foods?
Where do you draw the line on spice? When your eyes water? Nose runs? Steam comes out of your ears?