Who likes something super easy during the summer?
Who likes not to use the stove or stand over the hot grill?
Who likes making a super healthy dinner for you and your family?
If you answered yes to any of these questions, then I predict that this will be your new favorite dish.
I found this recipe in Make it Fast and Cook it Slow. This was a few weeks ago when Manatee and I were running from work to more work and just passing each other in the night. It was ridiculous.
I knew I wanted something I could throw in the slow-cooker with little to no prep and I wanted something healthy and clean.
In short, I wanted a dream recipe.
This did not disappoint.
Slow Cooker Rat-a-tat-touille
modified from Make it Fast and Cook it Slow
1 large eggplant, large diced
2 zucchini, large diced
1 onion, large diced
1 lb of mini sweet peppers, sliced
1 container cherry tomatoes
1 can whole peeled tomatoes
1 can diced tomatoes
2 cloves of garlic, minced
2 tablespoons Italian seasoning
2 tablespoons olive oil
1 teaspoon kosher salt
1 teaspoon ground black pepper
Spinach, optional
Crumbled goat cheese, optional
Combine eggplant, zucchini, onion, and peppers in 5-6 quart slow cooker.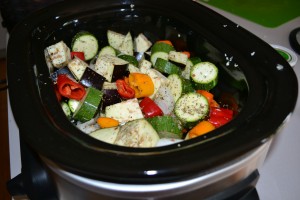 Pour canned tomatoes (with their juices) and cherry tomatoes over the top.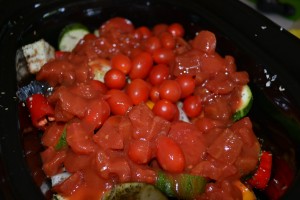 Mix in seasonings, oil, garlic, cherry tomatoes, salt, and pepper until well mixed. Cook on low for 6 hours.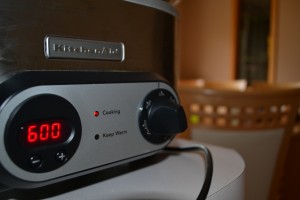 Serve over spinach or salad mix with crumbled goat cheese or really, any way you wish. I think it would be just as good with a spoon.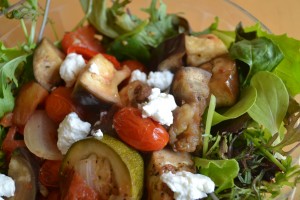 Enjoy.
Recipe Review:
The only thing I would do differently next time, would be to add a container of mushrooms to the veggies.
Then it would be heaven in a bowl.
I loved that the prep was easy. Yes, you have to cut veggies, but big chunks are better. It took me five minutes to prep this dish.
Then I just walked away.
Six hours later, I had warm tomatoes, peppers, and eggplant goodness.  It was awesome. Considering those are the three main plants in our garden and three super stars of the typical Wisconsin CSA, I predict that we will be making this a lot this summer.
***********************
What is your favorite go-to summer dish?