This is my new taco dip. It's FODMAP friendly (if you make your own hummus) and there is something about a warm dip that just screams special occasion.
And if you don't care about FODMAPs (aka the majority of the population), then take a serious shortcut and use pre-made hummus.
The ingredients are common enough that you probably have them on hand: tomatoes, peppers, olives,green onions, lemons, and feta cheese. And hummus, obviously.
Baked Hummus Dip
2018-04-02 11:46:20
A delicious layered dip that is guilt free and utterly delicious.
Hummus
1 [3/4] cans of garbanzo beans
[1/2] cup tahini
[1/2] cup olive oil OR combo of garlic infused oil and olive oil
[1/2] cup fresh lemon juice (juice from approx. 2 lemons)
[1/2] tsp salt
Dip
Hummus
Cherry tomatoes, halved
kalamata olives, chopped
green onions, green parts, chopped
olive oil
feta cheese
[1/4] can garbanzo beans, optional
Hummus
Combine all ingredients in a food processor fitted with a chopping blend. Puree until smooth.
Dip
Preheat oven to 350 dg(F).
In a square baking dish, spread out hummus. Top with tomatoes, olives, and green onions. If you made your own hummus, add the extra garbanzo beans. Sprinkle on feta cheese.
Bake 20 minutes until feta is starting to brown.
Notes
Did you notice I have no quantities? Grab a handful of tomatoes and about the half the amount of olives. 1-3 green onions. In other words, eye ball it. I've made regular 8 x 8 pans and I have made small bowls to use up leftover hummus.
The tomatoes will get a little watery, so you don't want to complete cover top of of hummus. Leave about an inch uncovered around all of the sides. This helps diffuse the water produced by the tomatoes.
Badger Girl Learns to Cook by Kimberly Aime https://learntocookbadgergirl.com/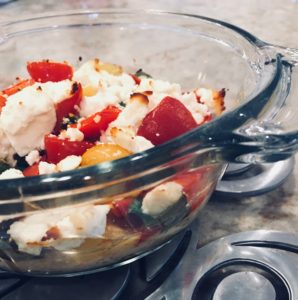 If the party guests don't inhale it, don't despair. This is a great leftover dip. It seriously has replaced my love for taco dip and I know it's going to be a party staple or just a I-don't-feel-like-cooking-tonight type of dish. Serve with raw veggies, crackers and/or tortilla chips.
************
Do you have a go-to bring along party dish? What is it?