These are my pumpkin success muffins. I will remember them as my first success with clean baking and because I made them when I was feeling successful. And with only
3 Weight Watcher points
, I felt successful each time I ate one. Or two. Or five.
Baking as my Yoga
I had a very productive and exciting morning last week in relation to my writing business. I was feeling happily overwhelmed and I needed to ground myself before I sat down to work.
Baking relaxes me as nothing else can. When I was in corporate America, aka when I was miserable,  I would get up in the middle of the night to bake.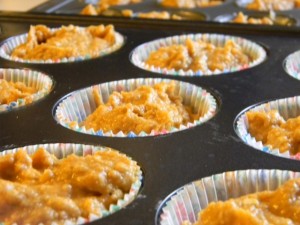 While Manatee dreamed of bakeries, I would be measuring, sifting and kneading.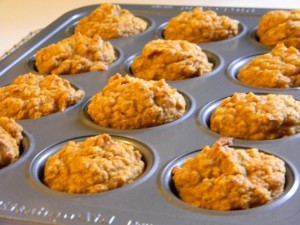 Manatee would awake to a messy kitchen and a serene Badger Girl. I would go to work tired but refreshed.My co-workers would enjoy the freshly baked biscotti, bread and muffins never knowing the angst that supplied their coffee break snacks.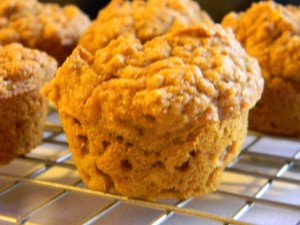 So when I needed to unwind after an exciting morning last week, I decided to take another shot at clean baking. Manatee and I are working to convert our diets to a clean diet (all whole foods, nothing processed) and baking is the trickiest part for me.
Clean Baking Substitutions
For this recipe, I had three substitutions to make to the original recipe.
Clean Baking Pumpkin Muffin Recipe
This is adapted from The Blue Plate Diner cookbook based on dishes served at Madison's Monty's Blue Plate.
3/4 cup honey
1/2 cup applesauce
2 eggs
1 cup canned pumpkin puree
1 1/2 tsp vanilla
1/4 cup water
1 3/4 cup whole wheat pastry flour
1/2 cup oatmeal
1 1/2 tsp baking soda
3/4 tsp salt
3/4 tsp cinnamon
1/2 tsp nutmeg
1/2 tsp allspice
1/4 tsp powdered ginger
1/4 tsp ground cloves
Preheat oven to 350 degrees.
Grease a muffin tin.
In a large mixing bowl, mix together honey, applesauce and eggs.
Add pumpkin, vanilla and water.
In a medium sized bowl, whisk together flour, oatmeal, baking soda, salt, cinnamon, nutmeg, allspice, powdered ginger and ground cloves.
Combine dry ingredients with the wet. Stir until just blended.
Fill each muffin tin 3/4 full.
Bake for 25-30 minutes.
Makes 18 regular sized muffins or 3 dozen mini muffins. Regular sized muffins are 3 Weight Watcher points (Point Plus formula).
Recipe Review: A-maz-ing. The reason I checked to see how many points were in them was because I was sure that I was blowing my diet. Not the case! With only 3 points per regular sized muffin, I should have ate more! The applesauce and honey make them very moist. My clean baking modifications worked! I will definitely make these again and the only tweaking will be with the spices. Next time I plan to double all the spices (cinnamon, nutmeg, allspice, ginger, ground cloves) to enhance the pumpkin flavor even more.