We finally found IT.
The tofu recipe of our dreams.
Sweet, spicy, and not at all greasy, with a hint of bright citrus.
I think we are in love….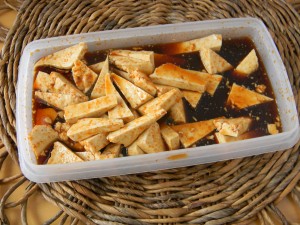 I could continue to wax poetic about the balance of the ingredients, the texture of the broiled tofu, but let's just get right to the recipe, shall we?
Sweet and Spicy Tofu
1/4 cup soy sauce
3 tablespoons maple syrup
2 tablespoons Sriracha
juice from 1 lime
1 container of pressed tofu, cut into bite-size triangles
Whisk together soy sauce, maple syrup, Sriracha, and lime juice.
Place tofu in a sealable container. Pour sauce over tofu. Cover and shake gently to distribute sauce.
As you can see, I didn't shake very gently. Oops.

Let marinate for 6-8 hours.
Turn on broiler. Place tofu on a lightly oiled pan or a silicone mat on a baking pan.
Broil for 9 minutes.
Remove from oven and drizzle leftover marinade over tofu. Broil for 3 more minutes.
Remove from oven and repeat (drizzle leftover marinade over tofu). Broil for 3 more minutes.
Serve with steamed veggies, brown rice, leftover marinade all on top of a nice bed of spinach. Can't get much healthier than that!
Recipe Review: My only regret? 
Not taking more pictures throughout the process.
Doh.
I read about this non-flip method of broiling tofu in Veganomicon (my new favorite cookbook). It's brilliant.
Particularly brilliant for lazy people like me.
I don't want to be bothered with flipping all these little pieces of tofu. I don't mind drizzling sauce over it, but flipping. Bah!
The result of the drizzle and broil technique? The tofu is caramelized with the sweet, tangy, spicy marinade.
Yum.
This is the tofu that you serve your meat-loving friends.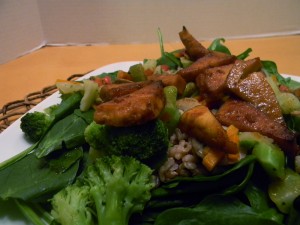 This is the tofu that converts people. 
What you don't have any Sriracha?
Fear not.
Enter to win 2 bottles of Sriracha in this week's giveaway.
Citrus Love
This is the tofu that is now part of Citrus Love.
January is citrus month so below you will find posts from food bloggers all over the world sharing their favorite citrus recipes.
If you have a citrus recipe, don't be shy! Add it below!