I never thought I would use "love" and "kale" in the same sentence. I know kale was so three years ago, I know that this will not even be a trendy food blog post at this point. But it has taken this long for me to give in to the foodies of days past. I finally have fallen in love with kale. Big time. Like I NEED this salad in my fridge every single week.
Kale chips were just plain weird and I tried many kale salads in the past. And massaging kale? You got to be kidding me. You know who needs a massage? Me. Not some stupid leafy green.
I found a dressing recipe on Foodlets, an awesome real food blog that you really should be reading. The dressing is good, a variation of my Best Salad Dressing Ever, and many other vinaigrettes I'm sure. It's good, but it's not why the kale salad is so good. The key is in the prep:
1. You must remove the ribs and slice the kale in thin ribbons.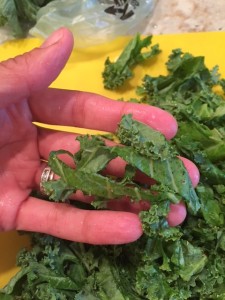 2. You must, must, MUST let it marinate in dressing overnight.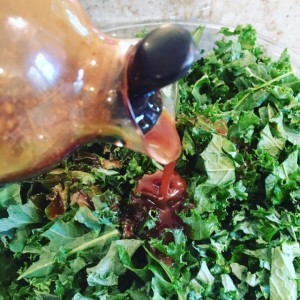 The marinade allows the acid in the salad dressing (the balsamic vinegar) to break down the kale into a tender green. Not the rough, chewy, dry leaf you see as garnish in supermarkets.
I love topping it with grilled chicken, avocado, cucumber, cherry tomatoes, and sliced almonds. You get all the textures and flavors you need in a good salad.
Love Me Tender Kale Salad
2016-09-02 13:26:18
A sweet vinaigrette transforms tough kale into tender ribbons adorned with chicken, avocado, cucumbers, tomatoes, and sliced almonds. Perfect to keep in the fridge for a healthy lunch or snack.
Ingredients
2 bunches of kale
1/2 c olive oil
4 TB basalmic vinegar
2 TB Dijon mustard
1 TB (real) maple syrup
Salt and Pepper to taste
Instructions
1. Clean the kale thoroughly. Remove stems and chop in thin ribbons. Place in large bowl.
2. In a small jar, combine olive oil, balsamic vinegar, mustard, and syrup. Shake to combine. Add salt and pepper to taste.
3. Pour dressing over kale. Toss, cover, and refrigerate for a minimum of 8 hours.
Notes
The longer the kale sits in the dressing, the more tender it gets. This usually lasts 3-4 days in our house. By the last day, I toss the remaining kale with other greens as it is usually saturated in dressing.
I like serving it with diced cucumbers, cherry tomatoes, diced avocado, sliced almonds, and chicken.
Adapted from Foodlets Kale Salad Dressing
Badger Girl Learns to Cook by Kimberly Aime https://learntocookbadgergirl.com/
This has been my go-to salad for bringing to families with new babies. It's also my go-to salad for at home and bringing to potlucks. In short, if you know me, you will probably have this salad sometime in the near future.
---
Now, admit. Who actually LIKES kale?

And if you do, how do YOU make it?