Remember me? I use to blog on a regular basis. Then I had a baby, Baby G, and life hasn't been the same since.
Let's just do a quick then and now.
Then: I used to consider 8 hours of uninterrupted sleep a good night sleep.
Now: If I can sleep 2 hours uninterrupted, that is awesome. Multiple stints of 2 hours of uninterrupted sleep = some kind of paradise.
Then: I used to go to bed between 10 and 11, and consider that early.
Now: I wait until it is just dark enough to not see the sun and I'm ready for bed. I'm actually looking forward to the winter so I can go to bed earlier.
Then: I used to go out of the house looking presentable, generally showered, made up, and hair brushed at a minimum.
Now: I think I scared a bunch of teenagers who were waiting on me at Old Navy last week. No shower, no make up, and I hadn't brushed my hair in two days. Add on a stained nursing bra (I was in the fitting room so I did actually wear a shirt to the store) and me asking for sizes that were too small for my post-partum body and I'm sure I gave them plenty to talk about the rest of the afternoon. I just wish I had given them a public safety announcement and told them "This is what happens to your body if you have sex." I may have saved some unwanted high school drama for them. Next time….
Then: I used to classify subjects into socially acceptable and not socially acceptable.
Now: I just told you about my stained nursing bra. I am now the person you don't want to stand next to in line at the grocery store.
Then: I didn't realize that anything was missing from my life.
Now: I don't know how I ever lived without her.
Then: I wrote blog posts and published them several times a week.
Now: It takes me writing several times a week to publish 1 post, if that.
Then: I actually set up photos on purpose.
Now: I am snapping pics with my phone while she is crying and I am trying to have a conversation with my husband.
Then: I sat down and figured out my recipe ahead of time and then took notes.
Now: I dictate what I am doing in the moment into my phone (while she is crying and now we have some nursery music playing on her bouncy seat, and Manatee is still trying to tell me about his day). Here is what I got for today's recipe:
Two mangoes two cucumbers assessed and juice two limes one onion two jalapenos one avocado
Cilantro Test from one line 1/4 cup so much
Got that?
Yes, life is different.
I couldn't be happier.
You may not hear from me quite as much these days, but I am thinking of y'all a lot. I will still provide you with clean recipes, but bear with me on the breaks. As with everything, I am learning to pare down. The good news for you is this means that the recipes on the blog will be the best of the best, but the bad news is you may not hear from me as often anymore.
But before you judge me, check out this recipe. I think you will agree it is worth the wait.
Mango Cucumber and Avocado Salsa
I recently learned how to peel a mango before cutting. This has revolutionized the way I view mangoes. Here is the key: Use a vegetable peeler to peel off the skin, cut off the bottom, and then cut the sides off around the pit. I learned from my good friend, April, but a little research showed that this is Alton Brown's technique but I couldn't find a source from him directly.
I love mangoes but never had the patience for them. Because of this, I never even dared to make mango salsa.
I have learned that this was a travesty.
We gobbled up this entire bowl of salsa the other night. I looked at a lot of recipes, and most of them included these elements:
Mangoes (duh)
Cucumbers
Red Onions
Cilantro or Mint
Lime Juice
Jalapenos
This is all fine and good, but I knew that Manatee would want it really spicy (and I know that I was too lazy to remove the seeds and ribs of the jalapeno), so I needed a cooling element.
Enter the creamy avocado.
The avocado balanced out the spice of the jalapeno and the acidity of the other ingredients. On top of all that, it's creamy texture played well with the crisp onion and cucumber.
In case you couldn't understand my dictated recipe, start with 2 mangoes, peeled and diced.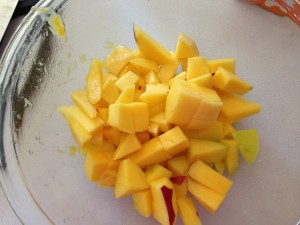 Add 2 cucumbers, peeled and diced.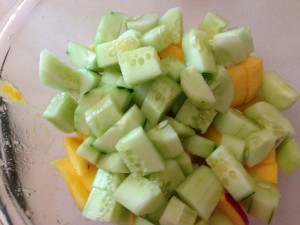 Add 1 small red onion, diced.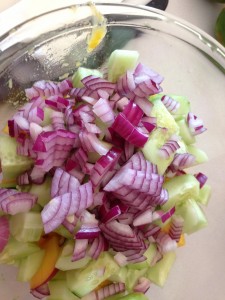 Add 2 jalapenos, diced. *
*And for less spice, remove the seeds and ribs.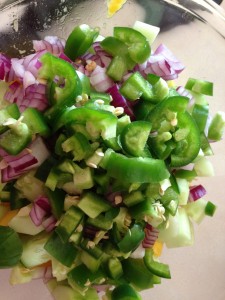 Add 1 avocado, cubed.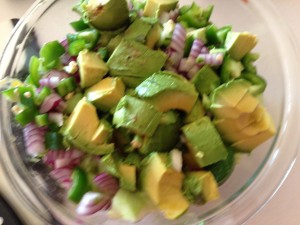 And here is where you can see things start to get dicey. Baby G needs to be fed and Manatee needs some attention, hence a blurry picture as I try to quickly finish the salsa…..
Add [1/4] cup chopped cilantro.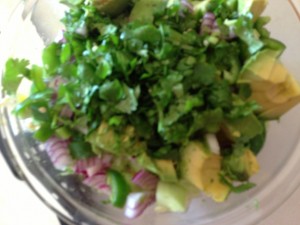 Add the zest of 1 lime, and the juice of 2 limes.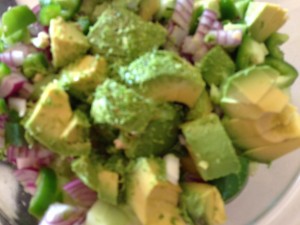 Toss to combine. Chill for 1-2 hours and serve with homemade tortilla chips or grilled fish (like our ahi tuna).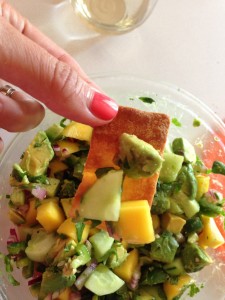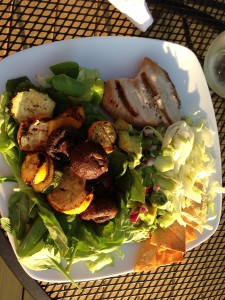 And here is a printable version…..
Mango, Cucumber, and Avocado Salsa
2013-07-16 13:48:14
Refreshing, spicy, and creamy: this summer salsa can't be beat!
Ingredients
2 mangos, peeled and diced
2 small cucumbers, peeled and diced
1 small red onion, diced
[1/4] cup cilantro, chopped
2 jalapeno peppers, diced
1 large avocado, cubed
zest from 1 small lime
juice from 2 small limes
Instructions
Combine all ingredients in a medium-sized bowl. Toss to combine. Chill for 1-2 hours so flavors can meld.
Notes
For a less spicy version, remove seeds and ribs of jalapeno.
Badger Girl Learns to Cook by Kimberly Aime https://learntocookbadgergirl.com/
Enjoy! Until next time, friends……