As someone who is dairy-free (most of the time), I am always on the lookout for dairy-free ice cream recipes.
I always feel a little cheated when I see a recipe that is made up of pureed, frozen bananas
. I love bananas. I mean, I love bananas like Manatee loves spinach. It's a major effort to only eat 1 banana a day. But I still feel cheated when someone tries to tell me that eating frozen bananas is like eating ice cream.
And this is why I developed so many real tasting dairy-free ice creams for my cookbook (which I will share in the next few weeks)
, but I digress.
The focus here is how frozen bananas do not equal ice cream. Period.
Because of this, I have refused to try any frozen banana treats.
Now they have even started making frozen banana ice cream makers and I have to admit that curiosity finally got the best of me. Unwilling to put any time, effort, and energy into them without a sample, I bought these at the store, and gave them a try.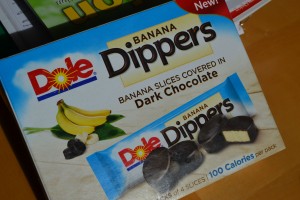 I have to say that I was surprised at how good these were. It's not ice cream, but the frozen banana is sweet and creamy. I could see how in desperation you could will these little treats into being ice cream.
With a little peanut butter on the side, I found these to be a great treat that I didn't feel too bad about eating.
I began to plot on how to make my own and I'm pretty happy with how they taste and I would love to hear your feedback on streamlining the process. You will notice the pictures diminish as we move into chocolate dipping phase. I think I had more chocolate on me than the bananas. Let's start with pics and I will share the recipe at the end.
Chocolate Peanut Butter Banana Bites (aka Skinny Elvises)
2013-03-07 19:20:38
Serves 7
A frozen, creamy, and low-fat treat. The King would definitely approve.
Ingredients
2 bananas
1 4-ounce chocolate bar, broken into pieces or [1/2] cup chocolate chips
[1/4] cup peanut butter
1. Slice banana into [1/4] to [1/2] inch slices. Discard ends.
2. Spread approximately [1/4] to [1/2] teaspoon peanut butter on each slice. Place on wax paper.
3. Melt chocolate in microwave-safe bowl in the microwave. Start at 30 seconds, stir, and then heat for 10-15 seconds and stir. Continue heating at 10-15 second intervals and stirring until chocolate is smooth and melted. Keep a close eye on the chocolate!
4. Using a spoon, dunk the slices in the melted chocolate, and flip it over in the chocolate. Make sure the slice is fully coated and place slice on wax paper. Repeat with remaining slices.
5. Place wax paper on a cookie sheet or plate (whatever fits in your freezer) and freeze for 4-6 hours.
6. Transfer slices to a zipper lock bag or an airtight container.
Instructions
If you are not a peanut butter fan, substitute your favorite nut butter or omit completely.
Look for chocolate that is 70% cacao or higher.
Badger Girl Learns to Cook by Kimberly Aime https://learntocookbadgergirl.com/
Recipe Review:
While I admit that these are not ice cream, they are decadent. Creamy banana paired with salty peanut butter encased with rich, dark chocolate.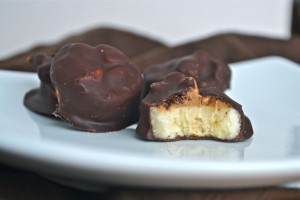 Yes, I think these will definitely take care of my pregnancy cravings.
I would love to make these a little easier to make and reduce the amount of chocolate. Since the whole dipping bananas in chocolate is new to me, I would love to hear your ideas.
Have you ever made chocolate dipped bananas?
Do you have any ideas for a better way to encase these bananas bites into the ooey gooey chocolate?
This is not to say that i don't think you should run to your kitchen and make these right now, because I do. Get off the computer, grab those bananas, and start slicing. You won't be sorry. So you have a little chocolate on your fingers?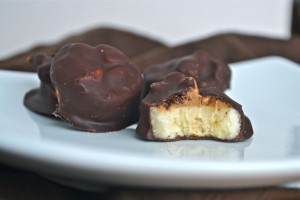 There are much worse things that could happen. Trust me.