When Manatee and I first went clean, I refused to give up potato chips. It was my weakness. I agreed to buy chips with no chemicals in the ingredient list, but I wanted my chips.
I am proud to say that is no longer an issue: I don't have to buy chips, because I know I can make better ones at home.
And these are the best baked chips, bar none, to anything you can find in a bag.
The secret? Brining.
I saw a segment on Anne Burrell's show last week on making homemade fried chips, and I couldn't wait to try the same method with baked chips. It makes sense: I have always soaked the potato slices in cold water and recently have done so with salt and sugar, why not let them soak longer and throw in an acid to tenderize them?
The other great part about this strategy: You can prep your chips when you have time, for me, that is the morning but you could do it the night before as well. When dinnertime rolls around, just dry them off, toss with some oil, and throw them in the oven.
Super Crispy Home Baked Potato Chips
2014-01-20 10:35:05
A super crispy, mom-friendly recipe for homemade potato chips
Ingredients
1 cup malt or sherry vinegar
1 cup cold water
2 tablespoons kosher salt
2 tablespoons granulated sugar
3-4 cups [1/4-inch} slices potatoes
2-3 tablespoons olive oil or grapeseed oil
Instructions
1. In a medium sized glass bowl, combine water and vinegar. Add salt and sugar, whisk until combined.
2. Add potato slices. Add additional water until slices are submerged. Cover and refrigerate for 8-12 hours.
3. Preheat oven to 400 (dgF).
4. Remove potato slices and pat dry. Toss with olive oil.
5. Bake for 15 minutes. Flip, and if necessary, rotate pans. Bake additional 10-20 minutes, checking frequently after 10 minutes.
6. Cool on a cooling rack and enjoy!
Notes
If you have a mandolin, this is a great place to use it!
You don't necessarily need extra salt, because the vinegar gives it a nice flavor. If you wish to add salt, be careful. A little will go a long way.
Adapted from Anne Burrell's Homemade Chips
Badger Girl Learns to Cook by Kimberly Aime https://learntocookbadgergirl.com/
Review:
There are two things I am a little embarrassed about:
I totally missed the money shot. In a perfect blogging world, I would have a great staged picture of these chips on a cute plate with some creamy dip and all of you would drool.
It was Friday night.
I was hungry.
I was tired.
The lighting was terrible.
Here are some pics that I did get it, and I even used my real camera!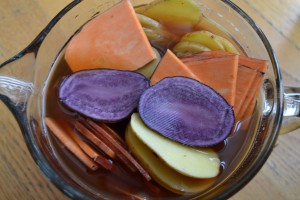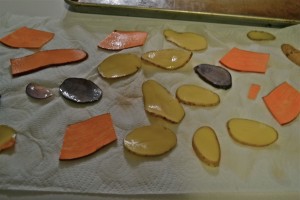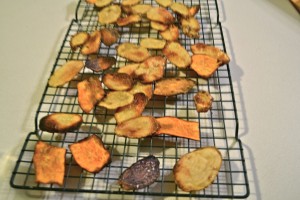 The second thing I am embarrassed about and why I didn't get a money shot:
We ate every single chip.
They were so good. So crispy. So fresh. But still, that was too many potato chips for two people. Lesson learned.
I want to keep experiment to see what kind of flavors I can add to the brine. I will keep you posted. Maybe some liquid smoke and hot sauce for some BBQ chips? Hmmm…
Yum.
**************
What is your favorite flavor chip?