I have not been happy about the transition into Fall. I read about bloggers who were rejoicing in Fall ingredients and I felt a bit like Scrooge. 'Fall? Pumpkin spice and apples? Bah- humbug!'
Manatee and I live for summers in Madison and this was going to be our summer. No injuries keeping us on the sideline, no wedding to plan, it was just a summer to enjoy being healthy and being together.
We didn't realize that it was going to be a summer for establishing our careers. In April, I struck out on my own and Manatee took over a new position. We worked hard this summer and I think we were both counting on September as our month to enjoy our labors. It began well with a trip to Galena but the weather turned on us.
Suddenly, it was Fall and we were not happy.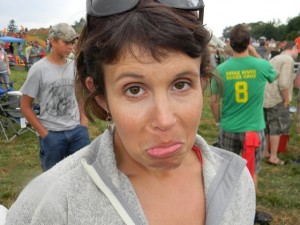 Okay, correction: I was not happy. Manatee is always happy. Disappointed, yes, but I was the one pouting and still trying to wear tank tops and then complaining about being cold. So, we could say that Manatee was disappointed and annoyed, but still happy.
It wasn't until this weekend that we were able to embrace the season. We packed away the white wine and broke out the red. I tried to roast a chicken for my parents (more on that later this week) and snuggled in one of my favorite scarves when we all went to a movie. On Saturday, we had perfect football weather as we cheered on the UW Badgers. On Sunday, I woke up to rain but somehow managed to get my last long run in before the marathon without getting wet. After a nice hot shower, I settled in to simmer some soup and bake my favorite fall treat: Pumpkin Oat Bars.
I dare you to try this recipe and not fall in love with Fall. One bite and you will be sighing at every colored leaf you pass and snuggling deeper into your blanket.
Pumpkin Oat Bars
Modified from a Weight Watchers Recipe
1/2 cup (1 stick) butter, softened
1 1/2 cup packed dark brown sugar
3 large eggs, beaten
1 can of pumpkin puree
1/4 tsp organic salt
1 1/4 tsp pumpkin pie spice
1/2 tsp cinnamon
1/4 tsp ground ginger
1/4 tsp ground nutmeg
1 1/2 cup whole wheat pastry flour
1 1/2 cup uncooked quick oats
2 1/2 tsp baking powder
Preheat oven to 350 degrees.
Coat a 10 x 15 inch pan with baking cooking spray.
In a large bowl, use an electric mixer to cream butter and brown sugar until light and fluffy.
Add eggs and pumpkin. Beat well (either with mixer or by hand).
Add salt, spices, flour, oats and baking powder. Mix thoroughly.
Bake for 40 minutes or until a toothpick comes out (mostly) clean.
I like to pull it out when just a few crumbs still stick to it. It makes for more moist bars.
Enjoy!
Recipe Review: In general, I love the baking process and but only like the end product. This leads me to hawk my wares at social gatherings or at Manatee's office. This is not the case with the Pumpkin Oat Bars. These bars are so good that I don't want to share. Lucky for me, this is the week before the marathon so if I eat the whole pan, I think the 26.2 miles I run on Sunday should probably take care of it.
In the world of Weight Watchers, these bars WITH a walnut on each one and white flour have 4 points. With my modifications, they are only 3 points. these calculations are based on 24 servings which is very doable. So if I ate the whole pan, that would only be 72 points! Okay, so maybe the marathon wouldn't totally take care of the damage. I guess I will let Manatee have a few.
Of all the recipes I have featured on my blog, I have to say this is one of my most tried and true. These bars will be making several appearances in our kitchen this fall as they have in the last two years. I hope they show up in your kitchen as well!