Happy Monday folks!
Today's recipe for the Food Matters Project was for updated tea sandwiches. There were several recipes we could choose from, but I have had my eye on the cucumber and wasabi mayo version for quite awhile. The only problem with making tea sandwiches is that they are sandwiches. And despite my recent flirtations with this American classic, sandwiches and bread are not my favorite things.
I decided to strip down the recipe so that all that remained were the elements I wanted in the first place: cucumbers and wasabi mayo. Since I am not a fan of watercress but eat pea shoots like they are candy, I thought I would make that substitution as well.
Wasabi Cucumber Bites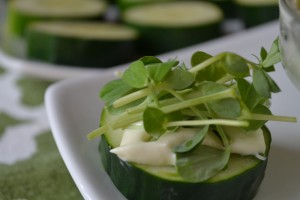 1 cup mayonnaise
1 1/4 teaspooon wasabi powder
1/4 cup pea shoots, roughly chopped
1 cucumber, sliced
Mix mayonnaise and wasabi powder together in small bowl.

Top with pea shoots.

To serve: you can either dip the cucumber slices in the wasabi mayo or you can spread the wasabi mayo on the cucumber slice and top with pea shoots.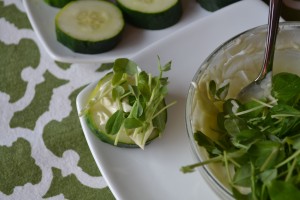 Recipe Review:
We snacked on this before dinner last night and we both really liked the flavor. The wasabi powder adds just a hint of a heat and the pea shoots were crunchy and sweet.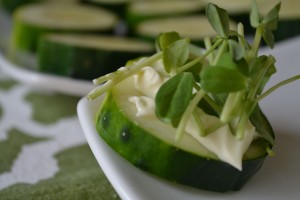 I will say that this recipe was a little too much for just two people, but I think it would be a great appetizer for a spring dinner party or a summer BBQ.
To check out more tea sandwich recipes, click here to see other Food Matters Project participants' interpretations of this week's assignment.