I have been hemming and hawing over this recipe for about a month. I adore it. It's my go-to summer drink. It's crisp, it's refreshing, but I got to be honest folks, it is not a ton of flavor. While I love it, I worry that it's not for the masses.
I walk into most bars and ask the bartenders for a cocktail that isn't too sweet. My husband hates this because 9 out of 10 times, the bartender rolls his eyes and I know that I will be order Tito's and club. Add on to that my recent issue with FODMAPs (different groups of complex carbohydrates) and suddenly I am very concerned about everything besides the booze. I don't want to waste my FODMAPs on something as dumb as fruit juice or (gasp) a syrupy sweet additive.
If you like Pina coladas, don't bother with this. If you like to get smacked in the face with flavor, go to the next post in your reader. If you like frothy, syrupy sweet frozen drinks at the pool, walk away from this blog post.
If you like clean flavors, if you drink vodka and clubs, if you find most conventional cocktails too sweet, then this is the drink for you.
When developing this recipe, I needed a way to flavor my cocktail without dealing with a lot of added sugar or fruit juice. I went back to my roots and started infusing vodka. By infusing vodka, you add flavor to the vodka without the added sugars. My best and most favorite infused vodka is this one. I have to admit grapefruit was a little trickier.
I tried two three variations: 1- zest of 3 large grapefruit 2-zest of 2 large grapefruit + sliced 4-inch peeled ginger root 3-slices of two large grapefruit.
The variation with the slices of grapefruit was a complete flop. When infusing vodkas with citrus, beware of the pith. That darn pith will create a bitter aftertaste even after just a few days.
I started this infusion in early March and I thought two weeks would be more than enough time to get the flavor I wanted. Wrong! It barely had any flavor and I started brainstorming some other ideas. Then I was dealing with GI issues and this new FODMAP diet. Then we went on vacation. Then I had a sick kiddo. Then my husband traveled for two weeks. Then my dear husband made me a drink last night with the grapefruit vodka that has been infusing for 8 weeks. And wow! Good things come to those who wait.
Grapefruit Spritzer
2018-05-02 13:20:48
A refreshing, crisp, and tart summer cocktail. And it's FODMAP friendly!
Ingredients
1-2 shot infused Grapefruit vodka (see recipe below)
juice from 1-2 Grapefruit slices
Grapefruit La Croix
Notes
I love adding Grapefruit La Croix, but you could also mix this with equal parts grapefruit juice and club soda or sparkling grapefruit juice.
Don't like vodka? Try tequila, add some lime, and call it a Paloma.
Badger Girl Learns to Cook by Kimberly Aime https://learntocookbadgergirl.com/
Grapefruit Infused Voda
2018-05-02 13:23:50
This refreshing vodka is great for mixing with club soda for a spritzer or even in a mule if that's your thing.
Ingredients
Zest of three large grapefruit
1.75 Liters vodka
Instructions
Zest three large grapefruit and make sure to remove as much white pith as possible. Pour vodka over and store in an airtight container for minimum of 2 months.
Badger Girl Learns to Cook by Kimberly Aime https://learntocookbadgergirl.com/
So you may be looking at this and thinking, that sounds amazing! I want one now!
That could be a problem.
They do make grapefruit flavored vodka and I did plenty of testing while on our Florida vacation. I liked it best with a generous splash of grapefruit juice.
Let's talk about the most important feature of this cocktail: the vessel. I love me a good fun cup. And these are definitely good fun cups.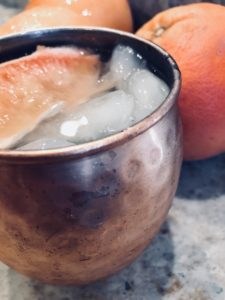 I love these Moscow mule mugs that I received from Moscow Muled. I am not a huge Moscow Mule fan, because the ginger beer can be a little too sweet, but these mugs don't have to be used for just Moscow Mules. They keep your drink insulated and cold and the handle keeps your hand from getting to cold. They are 100% pure copper on the outside AND lined with nickel. The handles are welded rather than riveted so they are leakproof. Not to mention, they are handcrafted and just plain pretty.
Confession: I let my daughters drink water out of them because they love having a fancy glass and their water stays colder. And I may start using them throughout the day just to make me feel like I'm at a happy hour.
So don't judge me if you see me at 10 am, sipping from a copper mug. It's (most probably) iced coffee or water.
You may see me back with these mugs and some new cocktail recipes.
What are your favorite summer drinks?