There's been a trend in the realm of a healthy parenting to 'sneak' veggies into unassuming dishes like brownies and cookies. After trying this trend with the once popular
black bean brownies
and devouring almost an entire pan, it took me months to get over my trust issues when someone offered me a brownie (or a side of black beans for that matter).
I don't care what anyone says: you can taste the veggies and we are sending a mixed message to our kids when we tell them that brownies (or cookies or cakes) are healthy.
How can we expect them to make healthy decisions when they are older when we are not wiling to teach them about healthy foods when they are young?
Pre-mamahood, I just assumed that my children would snack on veggies with the same passion that I once showed for Doritos in my oh-so-processed past. As a new mama, I have learned that I have no control over anything but my own attitude, but I am still not willing to hide healthy foods.
Instead, I'm trying to re-imagine junk food in more natural and flavorful versions. Take taco dip: you have a layer of sour cream mixed with seasonings (usually an envelope filled with some seasonings and lots of chemicals), then add on a few veggies (usually shredded lettuce, tomatoes, and black olives), and top it off with a very thick layer of cheese.
People love taco dip. Even my nephews who can be picky will eat an entire pan of the stuff without blinking. It's a common party food and very popular at tailgates and football watching parties.
My taco dip has the allure of its junk food counterpart, but really it's a salad in disguise.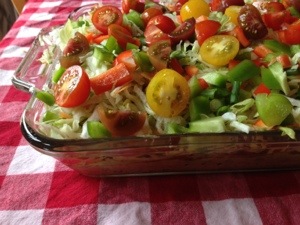 Creamy pinto beans make the base of the dip following by a smooth guacamole and then topped with a garden of zucchini, carrots, lettuce, peppers, tomatoes, and onions. It's a salad that you eat with a chip. It can't get any better than that!
Veggie Packed Taco Dip
2013-09-02 14:41:49
This is a salad that you eat with a chip. Creamy and spicy pinto beans, crisp shredded lettuce, and a garden variety of veggies.
Ingredients
2 cans pinto beans, rinsed and drained
1 small can chopped jalapeno peppers or chiles
1 jar of salsa
4 avocados
juice from 2 lemons (or limes)
1 small bag shredded lettuce
2 carrots, shredded
1 zucchini, shredded
[1/2] medium sweet red pepper, diced
[1/2] medium sweet green pepper, diced
1 pint cherry or grape tomatoes, halved
[1/2] bunch green onions (white and green parts), chopped
Instructions
1. Combine pinto beans, 2-3 tablespoons of salsa, and jalapeno peppers (or chiles) in a food processor fitted with a chopping blade. Cover the bowl with plastic wrap before putting the top on the processor. Puree until smooth. Spread bean mixture in a 9 x 13 cake pan with a spatula.
2. Add avocados, lemon (or lime) juice, and 2 tablespoons of salsa in food processor fitted with chopping blade. Cover the bowl with plastic wrap before putting the top on the processor. Puree until smooth, you may need to use the spatula to push down avocados on the side of the bowl. Spread avocado mixture on top of the beans.
3. Spread remaining salsa on top of avocado mixture.
4. Place shredded zucchini and carrots in a towel and squeeze out excess moisture. In a medium sized bowl, toss zucchini and carrots with half of the bag of shredded lettuce. Spread carrot mixture over salsa. Top with remaining shredded lettuce.
5. Top with peppers, tomatoes, and green onions. Chill until ready to serve. Serve with tortilla chips.
Notes
By using the food processor, you cut down on time and grunt work. By covering the food processor bowl with plastic wrap, you also cut down on clean up. Don't bother cleaning the bowl in between pureeing the beans and avocados, it's all going in the same place.
It's really important to squeeze out the excess moisture of the zucchini and carrots. No one likes a watery taco dip! This is also why I just halve cherry tomatoes rather than dice regular tomatoes.
Badger Girl Learns to Cook by Kimberly Aime https://learntocookbadgergirl.com/
I have to admit, I made this as an experiment. As with many of my health food makeovers, I figured that if no one else liked it, at least Manatee and I would have some leftovers.
The good news? Everyone LOVED it and asked for the recipe.
The bad news? No leftovers. Guess we will just have to make it again soon….
***************
What junk food party favorites would you like to see me makeover?