I have four basics that I always have on hand in our house: slow cooked Italian chicken,
kale salad dressed and ready to go
,
Shakeology
for shakes, and THESE egg cups.
Our mornings are go-go-go. For breakfasts, we either make shakes or we want eggs, and we don't always have time for scrambling. These eggs cups give us a fast protein in 20-40 seconds.
I have done a lot of testing with these egg cups and ready made eggs in general (see my breakfast sandwich recipe in my second cookbook for my fave frozen option). And I'm quite picky about my eggs in general. You could get all fancy pants and throw in some chopped veggies, but I am an egg purist. I like my eggs plain and I think the texture gets funky when you add in chopped anything. I would even go as far to say I would never even stir these eggs after cracking them in the muffin tins. Just crack the egg and squirt in some Sriracha. The texture doesn't get fluffy like they do when you attempt to mix the yolk and white together. And yes, I know from whom my daughters get their picky eating tendencies. Hello, my name is Badger Girl, and I am a picky eater. Or we could say I have a refined palate, but let's be honest, I'm probably just picky!
If you can't tell, I have tested this recipe many, many times in just about any variation you can imagine. I get very passionate about ready made eggs: when I was developing my breakfast sandwich recipe for my last book, I unearthed every way NOT to do it. And with these, I tried just about every variation: just egg whites, scrambled with veggies, scrambled plain, etc. And THESE are the best version I could make.
Baked Sriracha Egg Cups
2017-01-24 08:49:53
Serves 12
Simple and fast protein for your busy mornings.
Ingredients
12 Eggs
Sriracha
Coconut oil for greasing
Instructions
1. Preheat oven to 375 (dg)F.
2. Grease a cupcake pan for coconut oil or oil of your choosing.
3. Crack an egg in each cupcake opening. Squirt Sriracha on top of egg.
4. Bake 15-18 minutes until yolks are set.
5. Cool completely and store in an airtight container in the fridge for up to 5 days. Reheat 20 seconds per egg.
Notes
You can omit the Sriracha or add the sauce of your choice.
Badger Girl Learns to Cook by Kimberly Aime https://learntocookbadgergirl.com/
As you can see, you can definitely omit the sauce, but I have to be honest, the sauce is my favorite part. It gives enough kick to make you feel you are eating something indulgent. And my favorite way to eat them: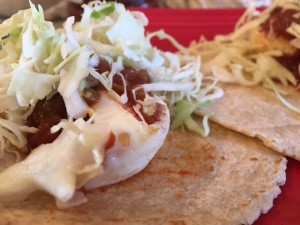 Corn/Flour tortilla + Salsa + Baked Sriracha Egg cup + Angel hair coleslaw mix. These breakfast tacos are such a healthy indulgence! They are great on-the-go or even as brunch.
You could definitely eat them on a breakfast sandwich and Manatee loves them plain.
What are you favorite on-the-go breakfasts?